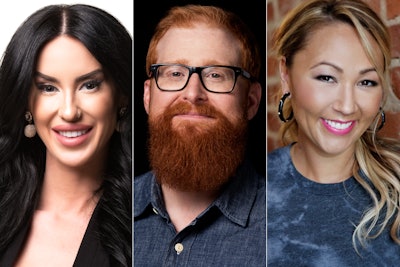 Sometimes even the most unlikely pairing can share a common ground. Just ask Lash Common cofounders Jessi Love and Derek Cockroft. Love, a 12-year beauty industry veteran, and Cockroft, a business leader with 15 years of experience in human resources and operations, joined forces in January to create Lash Common, an eyelash extension salon franchise. Add in the expertise of business partner and industry leader Nikki Huebner, and you have a recipe for success. But, despite its name, the Edmonton, Alberta, Canada-based company has a not-so-common mission: To unite the business, its shops, the artists and the clients. "Our goal is to create a support structure that helps entrepreneurs become successful, ethical and confident business owners," explains Love. So, what sets this franchise apart from the rest? "We help lash professionals elevate their business to the next level," enthuses Love. "We take the guesswork out of building, design, marketing, hiring and training, as well as provide on-going support."
Although they started out as direct competitors with two thriving salons in Edmonton, both Love and Cockroft recognized that a combined effort could make a major impact in the industry. "We noticed that there were a lot of investors and small shops with very little [left] in between," explains Cockroft. The two set out to develop a business model that united salon owners, lash professionals and customers to achieve common goals. But, much like most business owners just starting out, both Love and Cockroft faced their fair share of hurdles—including working with each other. "When you get two very driven people in the room, sometimes it takes time to figure out how to solve problems," Cockroft says. "Thankfully, we have complementary skill sets, and once we established trust with each other, there weren't too many problems we couldn't solve."
RELATED: How Lash Lifting and Tinting Help Your Clients and Boost Your Bottom Line
Perhaps Lash Common's most unique quality is its emphasis on "we before I." "We make decisions based on what's best for the three stakeholders in the business: the employees, the owners and the customers," emphasizes Cockroft. To help lash professionals reach their full potential, the company has developed the Lash Common University program to provide managers, owners and artists with the necessary skills for their positions. "We believe that by focusing on coaching and mentoring, owners and their staff will remain focused on and confident in the day-to-day operations of the business," Cockroft says.
With two salons in Canada and an expansion to the U.S. in the works, Lash Common has no plans of slowing down. This includes giving back in the community: Lash Common donates a percentage of its annual revenue to a number of charities, including Endure Beauty, Stollery Children's Hospital Foundation and Bullying Canada. Additionally, franchise owners are encouraged to donate to a charity of their choice. "'Lashing for a Cause' is a central theme for our company," raves Love. "All of the partners and owners believe that we all have the chance to use lashing to give back."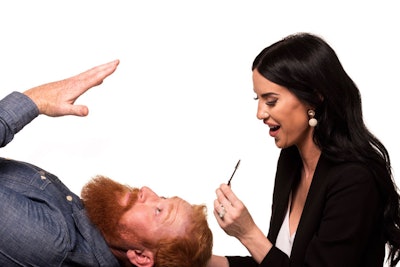 Success Secret
"You'll go fast by yourself, but you'll go further as a team," advises Derek Cockroft. "Focus on building trust and always look for ways to add value to every relationship."
Primo Products
Step inside any of the Lash Common locations and you'll feel like you've walked into a real-life Pinterest board. From moss greenery to pops of winter peach (Lash Common's signature shade), each location offers a consistent decor scheme with a unique twist. "The design for our salons is re ective of being fresh and organic," explains Jessi Love. "Based on our individual studies, we found that people prefer softer colors, as [those hues] tend to provide a more relaxed environment conducive with the salon experience."
This story first appeared in the November/December issue of Eyelash magazine. To receive the magazine, click here to subscribe.
[Image: Courtesy of Lash Common; Gretchen Mathison]