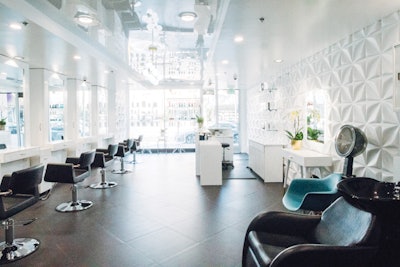 When disaster struck Tina Dizon's salon, the industrious owner quickly learned how to overcome adversity. Read on for her story, in her own words.
As a salon owner, there is never a dull moment. When I opened my business seven years ago, I knew it was the path I was meant to follow, and I've loved every minute of it—whether it's taking my craft to the next level, caring for my clients or mentoring my staff. There is a tremendous sense of pride in owning your own salon, and the industry is constantly evolving, which makes it exciting. But owning your business is also a lot of hard work, and my days are filled with juggling schedules, troubleshooting problems and sometimes even facing disasters. Most recently this happened to me last summer, when I walked into my salon [The Private Room] to find a leak in the ceiling. What I thought would be an easy one-week fix turned into a five-month complete demolition and renovation of my salon.
RELATED: Scottfree Salon Creates Cutting-Edge Hair in an Art Gallery-Inspired Setting
When my staff and I came into the studio and were told by construction workers how long it would be before we'd be able to open our doors again, we were in complete shock; it was a Saturday, and I had an entire wedding party scheduled that day. To make matters worse, all my equipment had to be moved within 48 hours to avoid damage from the heat and construction. What felt like a thousand questions flooded my head: Where was I going to move everything? Where does my staff work while our studio undergoes construction? What do I tell my clients?
After a good cry, I determined it was time to face the situation. I found a neighboring salon that allowed The Private Room to take a portion of the space so we could still service clients. Meanwhile, my salon was undergoing complete demolition—everything was stripped right down to the studs. It's safe to say that a few lessons were learned and some wisdom gained from the whole experience, which I want to share:
Lesson 1: When faced with the unexpected, you don't have time to process or feel sorry for yourself. Your only choice is to find solutions right away. At the end of the day, as a business owner, people are counting on you. My staff, my clients, my family—all look to me for answers. Staying focused on immediate goals is the only option.
RELATED: Hot Summer Hair Trends and the Products to Achieve Them
Lesson 2: Follow your instincts. The easy route when faced with a disaster is to quit and move on. But my passion and love for this industry are what kept me in the game. I wasn't ready to give up and I knew this could be an opportunity to make my business even better; you always need to see the silver lining.
Lesson 3: Turn any situation—even one that may seem horrible—into a positive one. Once I accepted the fact that my salon would essentially be a blank slate, I was excited by the chance to start over and rebuild my business. With a mid-century modern look, we completely renovated the space to include three-dimensional wall panels, a selfie station and new signature services. Our fresh space also includes a dynamic Locks Lab Extension Center—a new retail and full-service maintenance bar devoted to extensions that is available to consumers and professionals.
Lesson 4: Always be grateful. I was humbled and beyond appreciative of the overwhelming support I received from the hair industry. Salon owners, stylists, clients and family members all came to my aid when I needed it most. It made me fall in love with the industry all over again, and helped turn a daunting situation into an exciting journey.
—As told to Alyson Osterman-Kerr