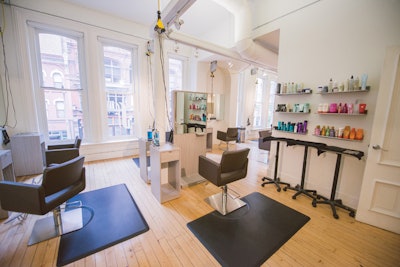 As a kid, Scott Yance would always go into his neighborhood barbershop and ask for spare change to buy sodas. One day, the owner asked him to come in and start working around the shop, which later led to him attending his first hair show as a teenager in Chicago—and from that moment on, he knew he had found his calling. After studying at the Vidal Sassoon Academy in Santa Monica, CA, Yance went on to work for the company before eventually opening his own salon. "I loved the idea of not only having a salon that was truly my vision, but also the opportunity to work with entrepreneurial stylists who may want to open their own salons one day," says Yance. "It feels amazing to be someone's mentor and pass on all the knowledge I've acquired after years in the industry; it's the best job in the world."
RELATED: The Royal Treatment at Truefitt & Hill
Not wanting a typical salon name or to just use his name in the title, Yance decided on Scottfree, because he felt like he "got away with something" by being so lucky in life. Now the proud owner of three locations, he first opened his downtown Milwaukee location in 2012, followed by his second salon on Milwaukee's North Shore in 2016. In 2017, he opened an exclusive space in Manhattan, NY, where he works one-on-one with guests. Yance maintains a minimalist and utilitarian theme across all of his locations to keep the focus on clients' hair. The downtown space, which opened in 2012, is located in a bustling neighborhood on the second floor of a historic building. Yance and his staff take extreme measures to make sure clients feel relaxed and welcome: The front desk manager knows everyone by name, and the salon offers concierge-level service that will pick up dry cleaning, lunch and Starbucks for guests.
The downtown salon also hosts classes for any stylists that want to learn how to create editorial hair, in addition to sending staff to participate in charity runway shows and photo shoots. "Our salon is similar to an art gallery, with the hairstyles we create becoming a rotating art show every single day," Yance points out. "We also hold a quarterly Gallery Night promoting local artists. Our staff has not only helped develop the popular street on which our salon resides, but the whole idea of a cutting- edge creative hair and beauty culture in Milwaukee. For that, I feel blessed every single day."
RELATED: Hot Summer Hair Trends and the Products to Achieve Them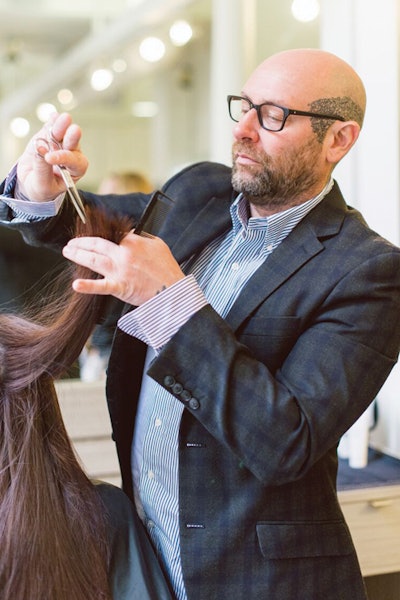 Employee Perks: Stylists work six-hour shifts and have every other Saturday off.
Client Perks: Free Wi-Fi, complimentary valet parking, concierge services, and a jewelry pop-up shop by a local design duo.
Beverages Served: Coffee, tea and water; white and red wine; and an array of whisky, scotch and bourbon.
Best-Selling Retail Product: Sachajuan Ocean Mist Spray.
Surprise Feature: All senior stylists have worked backstage at New York Fashion Week, countless local and regional fashion shows, and photo shoots.
Hottest Summer Trends: Platinum blondes, handpainted balayage and modern bobs.
[Images: Courtesy of Pottswood Photography]