Lisa Marie Garcia, President of Innovations, Dixie Sabedra, CHI Schools Director and Jill Lewis, Fields, Sales CHI Schools Manager joined the AACS (American Association of Cosmetology Schools) to meet with legislators from the House of Representatives and Senate to urge their support for the PROSPER Act. This coordinated effort brought awareness and support for H. R. 4508 –  Promoting Real Opportunity, Success, and Prosperity through Education Reform (PROSPER) Act, a bill that supports Cosmetology School government funding for student loans.
Farouk Systems, Inc. supports  the AACS and the PROSPER Act in an effort to ensure the future of cosmetology schools, funding and education to reach a higher level of professionalism. This can be accomplished by helping students better understand the importance of paying back their loans, completing their education, maintaining cosmetology licensing and school funding.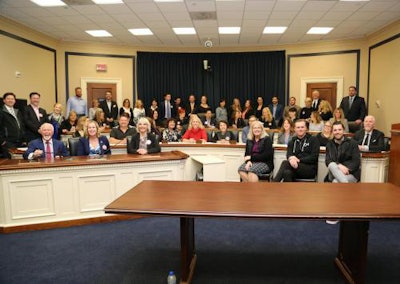 According to Lisa Marie Garcia, "As a company of hairdressers for hairdressers, we understand this industry and the importance of schools having the resources and the funding to operate at full capacity. This gives students every opportunity to be successful while opening the doors to the many career paths they can capitalize on, allowing graduates the means to pay off their loans."
Lisa Marie Garcia was selected to be a panel speaker during a Q and A session along with Cathy Koluch, Beauty School owner and activist for the state of Arizona, Frank Trieu, President of AACS - owner of Evergreen Beauty Schools in Washington State and Sarah Arno, Vice President of Finance for the Tri- State Cosmetology Institute. They spoke to lobbyists, visited the offices of several Senators and Congresspeople . This included Congressman Paul Mitchell; Congresswoman Virginia Foxx (leader of the PROSPER ACT who comes from a family of hairdressers); current chair of the House Committee on Education and the Workforce; US Senator Jeff Flake; George Miller, former US Congressman and former chairman of the House Education and Labor Committee and Karen Handel, US Representative. Several meetings were scheduled that included Texas Senator Ted Cruz; Legislative Correspondent, Ariel H. Gordon (State of Texas); U.S. House of Representative, Brian Babin and Legislative Assistant, Lauren Zi egler. This was a bi-partisan initiative that has received support from both sides of the political spectrum.
[Images courtesy of Farouk Systems]