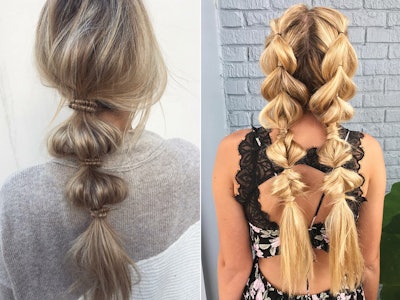 It's time to break out the flower crowns, crop tees and sunglasses, because festival season is officially here!
There are three elements that make for the perfect festival hairstyle: It must be unique; it has to be able to survive various factors, from the hot sun all day to dancing all night; and it should make the wearer feel confident and comfortable. From rad braids to boho waves, these are some of the latest trends created by fellow stylists that will inspire you and your clients for the ultimate festival win.
We all love a good ponytail, but doing the same style over and over again just feels so blasé. This is where the bubble ponytail comes in—a fashionable variation of the classic pony, this versatile look can be styled in myriad capacities—even braids. "Start the braid tight and add some texture spray," says Hannah Holsomback, an Alabama- based freelance artist. "Then pull it apart once it's nice and texturized." This look works best with longer locks, so add extensions if your client is lacking length. Award-winning London hairdresser Michael Gray shares a fun tip: "Instead of using a strand of hair to wrap around the band, infinity- braid the hair, then wrap around and secure with a clear elastic to finish the look."
RELATED: Behind the Scenes at Coachella with Redken Artist Heather King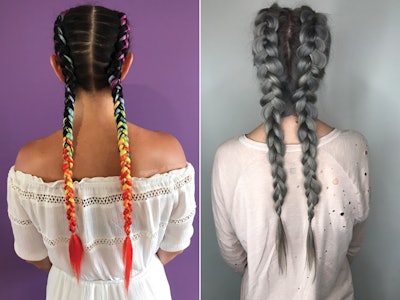 We're obsessed with Double Dutch 1 braids—they're a perfect trend for clients who 2 don't want to change their hairstyle daily at the festival. "Gently open the braid by pulling the edges of each section," advises Jamie Gomez, owner of Parlour e.lev.en in Huntington Beach, CA. "You can also use texturizing spray to create a more tousled look." For clients with shorter tresses or lacking volume, hair extensions can be incorporated to make braids thicker and longer. For an added twist, colored extensions or ribbons can be weaved in for a multidimensional effect. "For those just starting out braiding, wet hair is a lot easier to work with," adds Bec Henderson, founder of the Australian website Game of Braids.
PHOTOS: BioSilk's Stunning Festival Collection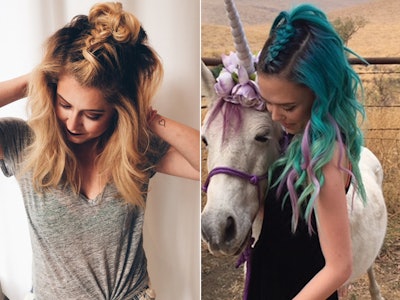 One of the new trends on the block happens to be the braided topknot—a combination of the braid and the bun. Hair can either be worn completely up for this style, or you can opt to just braid a partial section on top while leaving the rest down for a fuller, flirtier version. "Braid the top section until you reach the crown, leaving enough hair out of the braid to loop through a hair band to create a topknot or high bun," says stylist Luis Miller. "Place bobby pins to secure and open the bun for a more voluminous effect." What's more, this look is great for clients with shorter to mid-length hair—no extensions necessary. "Use dry texture spray to magnify the braid," advises Brittany Williams, an educator for Bio Ionic. "And I also alternate directions of the curls, leaving an inch out at the ends."
PHOTOS: Instagram Trend Roundup - Striped Hair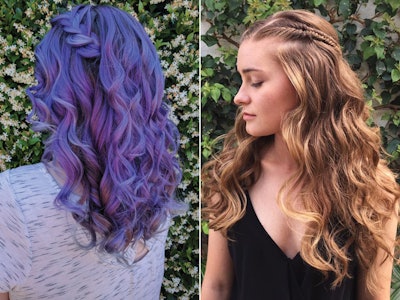 You can never go wrong with beautiful, bohemian-inspired waves that are just the right amount of messy. They're cool, seem effortless and look even better the second day. "My choice of weapon is a flat iron because it works with all lengths and textures, and makes it super easy to achieve waves," shares Damaris Earlewine, a stylist at Liberty Salon in Rancho Mirage, CA. "And always make sure to use a thermal protectant when styling waves, as it protects from heat, conditions cuticles and adds shine." This style look best when full and long, so add extensions for clients with shorter tresses. For an even more festive look, incorporate a braid. "For a finishing touch, create a small plait from the heavier side of your client's parting, working back toward the crown," adds Jeffrey Allen, a stylist at Marco Pelusi Hair Studio in West Hollywood, CA. "Pull the braid apart as you go to form a looser, bubbled braid. Secure under the top section with an elastic and a bobby pin."
RELATED: David Antunes Dishes on Seasonal Trends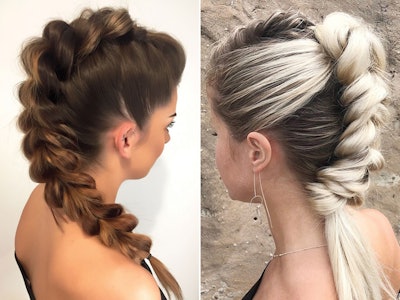 Mohawk braids are having a moment right now and we're completely on board. Fierce enough to rock at any music festival, it's the perfect look for the client with a bit of a wild streak who still wants to maintain an air of femininity. "Use a fine-tooth comb to really smooth out the edges when pulling each section into a small ponytail," suggests Carly Michelle, owner of UK-based Carly Michelle Makeup and Hair. If volume is lacking on top, add in a hair topper to give tresses an instant boost. What's more, the mohawk braid can be styled in various ways—be it in the form of a low pony, a continuous braid or even an updo. Now that's winning the hair game!
[Images: Courtesy of each stylists]