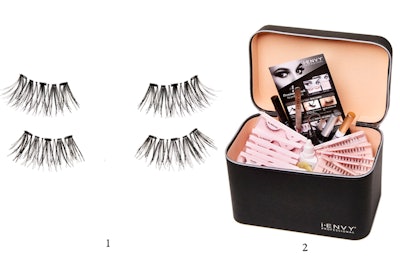 From new technology to a no-brainer kit, these strip lash launches are aces for artists.
1) Ardell Magnetic Lashes - Think of these as the perfect stackers for bridal quick- changes: The pre-curved bands use multi-magnet technology to clamp "top" and "bottom" strips firmly around natural lashes in seconds—no glue needed. You can even temporarily lock them over another pair of strip lashes (depending on strip thickness) or extensions for increased drama, should the job call for it. Shown: Accents 002.
RELATED: Stay in the Lashing Business by Making Smart Investments and Sound Decisions
2) i-Envy Professional Starter Kit - Adding falsies to your service line-up? This starter kit— which features 10 Strip Lashes, eight Individual Lashes packs, four types of Adhesives (both black and clear) and a Tool Kit (think: Eyelash Scissor and Individual Eyelash Adhesive Remover)—will put you on the quick path to success.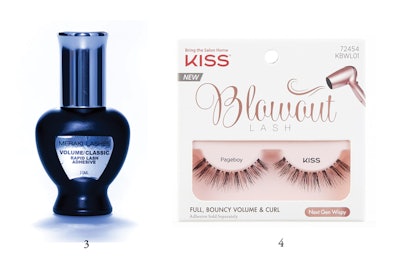 3) Meraki Lashes Volume/Classic Rapid Lash Adhesive - Looking to add speed to your lash service? No matter if you're creating Volume fans or doing one-to- one Classic lashes, this adhesive, which has a two-to-three second dry time, will help you quicken your pace. Bonus: It's great for beginners and experienced lash artists.
RELATED: Borboleta Beauty Founder Kim Jaynes on How to Sell More Retail Products
4) Kiss Blowout Lash - Improving upon the much-adored crisscross wispy style, these lashes use "Volumizing Back-Tease Technology," which Annette DeVita-Goldstein, SVP of global marketing for Kiss, describes as a three-part salon-like treatment where each hair is washed, treated and dried (think: teased!) to help expand the cuticle for a fuller, more voluminous lash. Shown: Pageboy.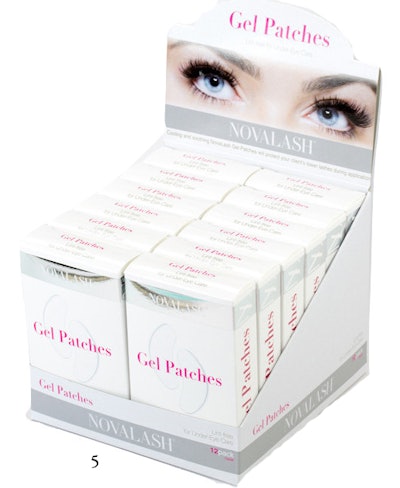 5 ) NovaLash Gel Patches - Do you use gel patches during your lash services? You might want to retail these under-eye hydrators to clients for home-use as well. NovaLash now offers its Gel Patches in a compact 12- pack case that is perfect for placing next to your till for impulse purchases. Each pack contains 10 gel pads.