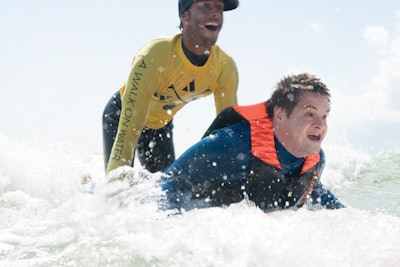 Philanthropy has always been a central tenet to John Paul Mitchell Systems (JPMS) cofounder John Paul DeJoria and his wife Eloise. Hence their immediate response to an invitation from Steven Lippman, a personal friend and president of A Walk on Water (AWOW), who was hosting an event for the organization in Ventura, CA. For the couple, the bright, sunny beach day quickly morphed into a major moment. "John Paul and Eloise watched amazed as parents handed off their kicking and hollering children to surf therapists, who cooed with energetic love and patience as they convinced each child to lay flat on the surfboard as they paddled out to sea," shares Mara Gourdine, JPMS corporate culture ambassador.
VIDEO: Paul Mitchell Schools Held Annual Caper 2018 at The Disneyland Hotel
Founded in 2000 by the son of a surfing enthusiast, Pat Notaro III, A Walk on Water is a nonprofit organization that offers surf therapy to special needs children, many of whom are autistic. Each special needs child is paired with a dedicated surfing instructor, who teaches them the basics of surfing: how to lay on the board, paddle out to a wave and ride the wave to shore while parents and siblings cheer on. "One of the characteristics of autism is difficulty being able to connect with others," explains Gourdine. But through AWOW, the healing benefits of the ocean can be seen immediately. "Upon reentry to the shore, these same children who had previously been pitching a fit were now riding waves with huge smiles on their faces," smiles Gourdine.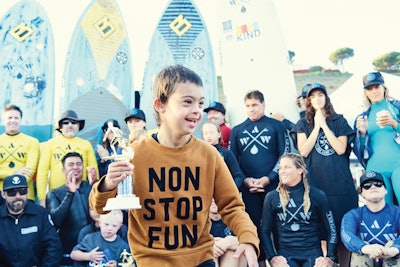 RELATED: Paul Mitchell's Color Outside the Lines Contest Rewards Hair Colorists
While water therapy's benefits have long been documented, one of the many aspects that sets AWOW apart is the family approach to each event. Siblings and parents are invited to participate in the day's festivities, indulging in nutritious food, lifestyle guidance from experts, and gaining a community of support. "The beautiful thing about AWOW is the entire day is gifted to not only the special needs athlete, but the entire family," says Gourdine. "Siblings get to go in the water and Mom and Dad get to take a break, knowing their child is in very experienced and caring hands." To date, more than 200 special needs children and their families participate in AWOW's annual events. "True beauty comes from the inside," says Gourdine. "And doing what we can collectively to make the world a better place is the right thing to do."
To learn more and get involved with AWOW, visit awalkonwater.org or contact Alexandra Power: [email protected].
–by Kaitlin Clark
[Images: Courtesy of AWOW Vision Team]