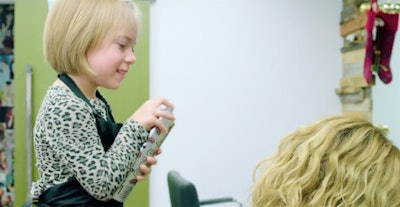 Jamie Rourke, Schwarzkopf Professional Men's Grooming expert and Artistic team member, and Co-Owner of RO Style Salon is celebrating the joy of hairdressing. Rourke was recently inspired by the Barbie "Imagine the Possibilities" video, which celebrates young girls imagining their future careers.
"I loved the message behind it, and of course I immediately wanted to recreate a hairstylist version with my daughter," said Rourke. "I made the video not only to be cute and funny, but to hopefully inspire kids to imagine that they can be, or do anything. Also, as a reminder to us as adults to never underestimate the power of imagination.​"​
Rourke's daughter steals the show in his video, using various OSiS+ by Schwarzkopf Professional hair styling products to style "clients" in her salon. Check out the adorable video, below!