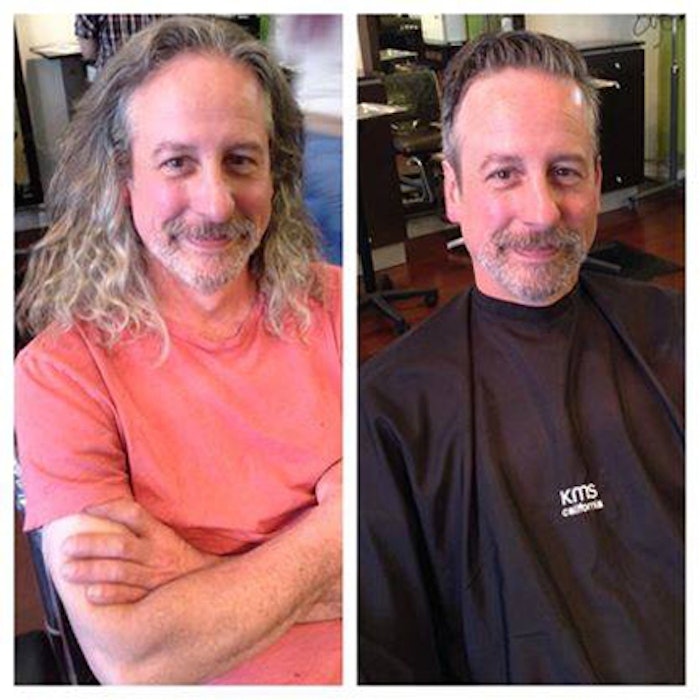 Joi Rooks, owner of fresche salon in Atlanta, GA says when men want a change, they don't always know what to ask for and look to their stylists for expert guidance.  She offers tips to make manovers a success:
Most men want easy, fast and low maintenance styling, so take that into consideration during the consultation.
KMS HAIR PLAY messing crème is a great styling product for men – it's simple and it can add texture or smooth.
Pre-book men for their next appointment before they leave – they need to have a clear maintenance plan.
Positive feedback from others breeds confidence, take a picture and post on social media so they can share with family and friends and enjoy the positive feedback.
"The above guest came in on his birthday and said "cut it off." After determining if he was serious, which is always crucial, we asked if he had any ideas and he said, "just make me look good." He is an artist, so we didn't want to give him just a crew cut or something, so we turned to classic men's haircuts for inspiration," said Tiffany Pateritsas, stylist at fresche salon.
"Positive feedback helps male clients maintain their looks, take the time to advise staff to compliment them after a service and 'like' and 'tag' their images on social media to show them they look good and advertise that your salon caters to men as well as women," says Patrick McIvor, Artistic & TechniCulture Director for Goldwell and KMS California and social media mentor. 
[Image courtesy of Glow Communications]