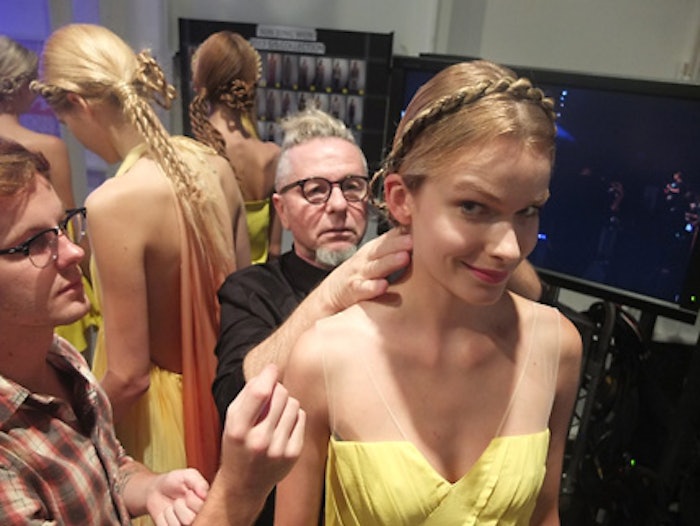 Privé Salon and Products Founder, stylist to the stars Laurent Dufourg reveals the top fashion week hair style looks and how to transition from the runway to every day.
 
The 2012 New York Fashion Week verdict is in; hair was definitely a hit on the runways.  Many different styles and trends made an appearance this season and Privé Salon and Products Founder Laurent Dufourg, oversaw the hair at eleven shows this season including, Andrea Campbell, Olcay Gulsen, Tia Cibani, Not By Jenny Lai, By Misha, Son Jung Wan, Kara Laricks, Helen Yarmak, William Okpo, John Bartlett, and Stephen Burrows. Dufourg breaks them down and gives his tips on how to make an easy transition from runway to every day.
 

BRAIDS: Braids were incorporated into a variety of different looks on the runway this season. For the Michael Kors show models sported the fishtail braid down the runway while Laurent Dufourg adapted a more tribal feel for the Son Jung Wan show. "This collection was so close to haute couture that I decided to break the effect with a simple, organic tribe vibe," says Dufourg. To get this look, apply some of Privé's Relaxing Gel and blow dry hair straight. Once the hair is dry, separate it into separate sections depending on how many braids you want to incorporate into the look. Use Privé's Extended Texture Clay to give the hair texture and make it more workable. Leave some braids in a ponytail, and clip other sections up into a bun.
 

BUNS: Buns were all the rage this season and Laurent tailored the messy "top bun" for the girls at Olcay Gulsen. To get the look, part large sections of the hair with a volumizing or texturizing spray, such as Privé's Volumizing Dry Shampoo. "Once the hair has ample volume, work the hair up into a high ponytail using fingers only; do not use a brush or comb," says Dufourg. Tease the ponytail with a wide tooth comb, and then wrap it around the base to create a wide bun. The last step is to secure the bun with large pins, and rough up the rest of the hair to get a fly away affect. To lock in the look, finish off with Privé's Firm Hold Hair Spray.
 

DEEP SIDE PART: This edgy look was seen all over the runways from Suno to Altuzarra. "This look adds unique dimension to the hair, and can be easily incorporated into any style," comments Dufourg. For the Not By Jenny Lai show, Dufourg incorporated the deep side part to a low bun, and showcased it with white bobby pins. The first step to adding the deep side part is to separate the section of the hair that should be designated to this, which is usually the bangs or longer side sweeps. Once the hair is separated, secure it in place using a good sculpting cream, such as Privé's Sculpting Pomade or a strong hair spray such as Privé's Firm Hold Hair Spray.
 

NATURAL WAVES: Dufourg went for an all-natural wave trend for the Stephen Burrows presentation. To get this look, first spray some of Privé's Flash Brilliance throughout the hair and blow dry it straight. Once the hair is dry take a one-inch curling iron to create big, soft curls. "After the curls have set in, work your fingers through them to create a more wavy, natural look," says Dufourg. Spray Privé's Finishing Texture Hair Spray to hold the waves in place.
[Images courtesy of Fox Greenberg Public Relations]
Other New York Fashion Week Spring/Summer 2013 Collections: Joanna Mastroianni |  Timo Weiland | Monique Lhuillier |  Christian Siriano |  Rebecca  Taylor | Band of Outsiders | Suno |  Houghton  |  Charlotte Ronson |  Monika Chiang  |  Tadashi Shoji  |  Costello Tagliapietra |  Honor |  DKNY | Erin Fetherston  | Peter Som | Derek Lam