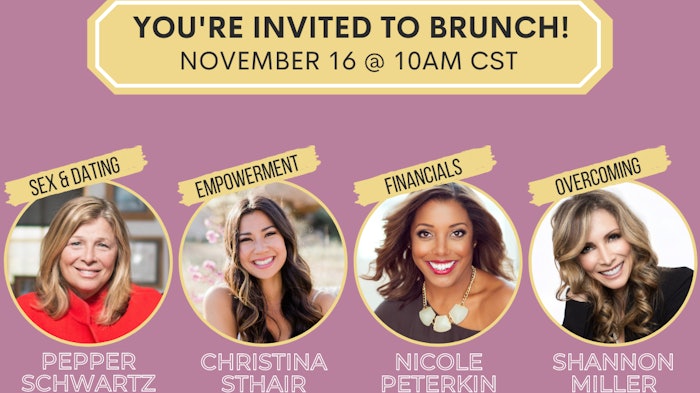 America's Beauty Brunch is a unique virtual and interactive event designed by and for women in beauty. 
This virtual event will be held on Monday, November 16th from 10:00 A.M. to 2:00 P.M. CDT. Attendees will enjoy interaction with speakers and hosts along with music, dancing, online discussion, prizes and more.
America's Beauty Brunch is hosted by an esteemed group of women, including:
Lindsay Rumpel, Senior Director of Business Development, JOICO
Candy Gebhart, General Manager, Redken US
Ronit Enos, Business Coach and Host of Huddle Time
Karen Gordon, Salon Owner and President of Cosmetologists Chicago
Speaker Sessions include:
"Headspace Meditation" with Christina Sthair  –   BALANCE
Christina Sthair is a women's empowerment leader, success and life coach. She is certified in Neuro Linguistic Programing & Hypnotherapy and is an expert on manifestation and spirituality, meditation and energetics. She will explore emotional freedom techniques and what it means to support a T.I.M.E Mindset.
 "Sex and Dating" with Pepper Schwartz – LOVE
Pepper Schwartz is a sociologist and sexologist teaching at University of Washington. She is an author and TV personality. She is the creator of Perfect, Match.com's matching algorithm; codeveloper of the new start-up dating site Keeper; original team of Pulse, the electronic dispenser of warmed viscous liquids; and the relationship expert on Married at First Sight, airing on A&E and FYI. Schwartz is also the author of SNAP Strategies for Couples.
"Financials" with Nicole Peterkin – WEALTH
Nicole Peterkin is a fee-based financial advisor who has built a six-figure practice in just four years. She is also the author of If You Love Your Family, Save Like It.
"Comeback Strong" with Shannon Miller – STRENGTH
Shannon Miller is the most decorated US gymnast in Olympic history, male or female. She is the mother of two and a cancer survivor. Her memoir is It's Not About Perfect: Competing for My Country and Fighting for My Life. Currently, she travels the country as a motivational speaker on topics concerning The Goal Medal Mindset, cancer and survivorship and the importance of health and fitness.