Our 8th annual 30 Under 30 spotlight highlights the next generation of colorists — all under age 30 — who are poised to take their careers to the next level. Hailing from coast to coast and different countries, these color experts comprise an eclectic 2020 crew. We learned about their lives and hue loves, who motivates and what inspires them, how they got started and where they hope to go.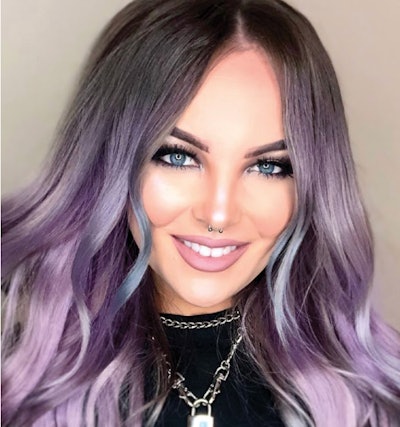 Hailey Watkins (@hailtothehair), 26 years old, is a stylist at Madison Avenue Salon in Myrtle Beach, South Carolina.
PROFESSIONAL GOAL: In addition to hair, I'm a special-effects makeup artist. Since day one, my goal has been to do both hair and makeup for the film industry.
WHAT I LOVE ABOUT THIS WORK: Every canvas is a different challenge, so knowing color theory is key. There's nothing more rewarding than helping clients look their best by achieving color goals.
BEST COLOR TIP: Shampoo your hair less—learn to live on dry shampoo. Daily washings will strip natural oils, leaving tresses dry and fading color.