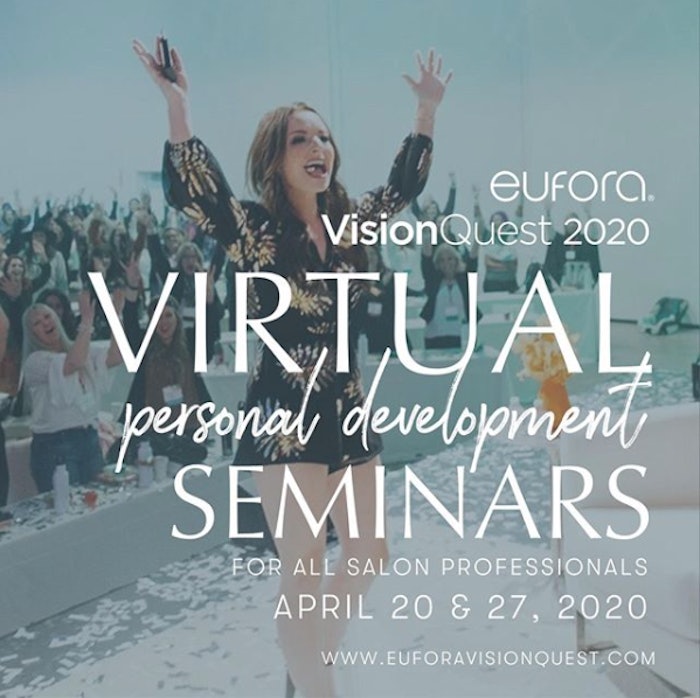 Eufora International ignites and inspires its salon base with VisionQuest, a biannual personal development seminar that features top-notch keynote speakers and motivational coaching. Despite the coronavirus outbreak, this year's Vision Quest 2020 promises to be the best ever! Not only can any and every stylist attend the event—for the first time ever—but Eufora has also waived the $600 registration fee, meaning you can get much-needed sales and motivational expertise for free, just when you need it most. 
Held on April 20 and April 27, 2020, the virtual event will be hosted by Eufora CEO and co-founder Beth Bewley, and features a lineup of acclaimed speakers that are sure to help you navigate your salon business during this unprecedented time. The two keynote speakers are Ryan Estis and Michelle Poler:
With 20 years of business experience working with the world's best brands to deliver growth, sales and leadership expert Ryan Estis prepares people to embrace change and achieve breakthrough performance. Estis has presented his expertise to companies such as Adobe, AT&T, Microsoft and Tiffany & Co.—and now, to you!

A creative and passionate social entrepreneur, keynote speaker, fear-facer and branding strategist, Michelle Poler is the founder of Hello Fears, a social movement that has empowered thousands to step outside of their comfort zone and tap into their full potential. She has been invited to speak at places such as TEDx, Google, Yum Brands, Facebook, Wells Fargo, ESPN, Netflix, Procter and Gamble, Microsoft, Toyota and many more.
Other presentations include:
Learn to Lead Yourself and Others – Carla Iliescu, Founder of POTENTIAL. Certified Brene Brown presenter of Dare to Lead 
Manifest Mental Fitness through Mindfulness – Cory Muscara, Mindfulness Teacher, Speaker and Coach
Master Your Marketing Funnel – Britt Seva, Social Media & Marketing Strategist
In light of the current global pandemic, Eufora is waiving the $600 event fee and is offering access to both days complimentary to salon professionals from all over the world in the hopes that they can help empower owners and stylists with the tools to shape a successful and fulfilling life.
"We will miss being with all of our wonderful stylists, salon owners and sales professionals, but we can still connect virtually!" says Bewley. "Keeping VisionQuest on was something we wanted to do for the industry at a time when the industry needs us the most and needs this information and inspiration to forge a bright future for their businesses and lives."
Visit https://www.euforavisionquest.com/ for registration and full details.