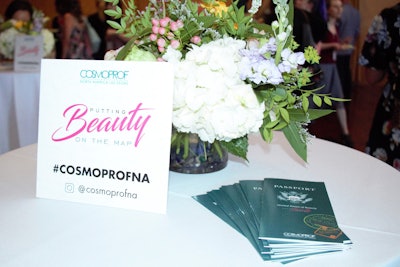 Last week, Cosmoprof North America hosted an exclusive sneak peek of trend-directional brands from around the world at uber-cool lifestyle event space, Wanderlust in Hollywood. The event, Putting Beauty on the Map, featured 11 specifically curated beauty products represented from across three continents. The trend-directional brands were selected for their unique attributes and global appeal. All featured brands will be on display at the upcoming exhibition taking place at Mandalay Bay Convention Center in Las Vegas, NV, July 29-31. This sneek peak into trends on display at the upcoming fair will be for some of the guests a way to get a small tasting of the show even if they can't make it to the July event.
The event was attended by leading consumer and beauty industry media, retail buyers, beauty investors and social influencers. In addition to being able to explore each product, attendees could also have special beauty treatments performed provided by RealHer (Makeup) and Bijoux De Pele (Adhesive Eyeliner). Guests were sent home with a gift bag valued at nearly $800 that included all featured products.
Featured brands included:        
To learn more about CPNA or for registration and show updates, please visit www.cosmoprofnorthamerica.com.
Event information and exhibitor updates are also posted on Facebook, Twitter and Instagram.