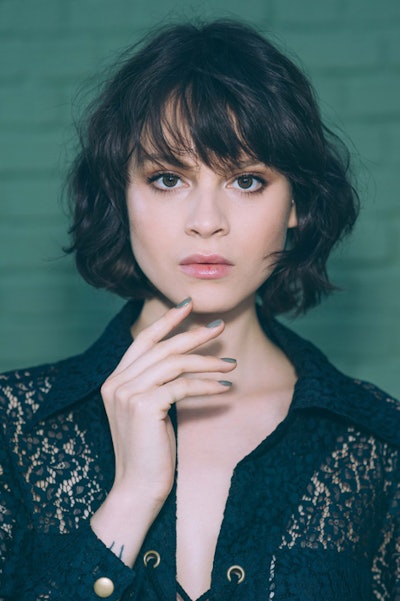 When the beauty theme is "enter the safari," as Glamsquad makeup lead Kelli J. Bartlett describes it backstage at Nicole Miller, then you'd expect a range of bronze-y hues and sparkling finishes. But what is particularly striking is the brushed-up brows that Bartlett bequeaths to each girl. "I'm calling them 'marabou' brows, like fluffy marabou slippers," she laughs. To achieve them, she brushes loads of tinted brow gel into the arches, and then gingerly fills in any blank spots with brow pencil. While skin receives a glow-y, dewy finish (thanks to Glossier Highlighter in Topaz and Moonstone), Bartlett loads up lashes with mascara and then pats By Terry Baume de Rose Lip Balm in Bloom Berry on pouts, saying, "It's just amazing for a stained lip. It helps keep the lips hydrated and plush. It's a bitten-yet-hydrated stain!"
The hair, roughed up by the hands of Cutler Salon hair lead Rodney Cutler, boasts what he's calling a "lazy wave with a raggedy feel." Though at the test he ties up bits of hair with fabric sourced from the collection, this detail sadly doesn't make the final cut. Instead, Cutler preps hair by blow-drying in Cutler Volumizing Spray, draws a center part, and crafts his waves using a 1-1/2-inch curling iron held vertically to the head.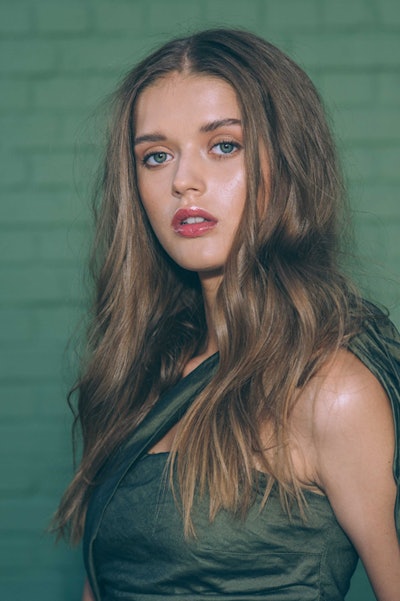 "I'm leaving out the ends so that they retain a straight texture to them," he says. "This makes the look a bit more modern." Once the hair cools, he finishes by spraying Redken Fashion Work 12 throughout the entire head.
And what beauty safari would be complete without a manicure? Glamsquad nail lead Christina Quercia coats nails in Essie Exposed, a soft khaki hue that has a touch of brown to it. "We wanted a neutral, but that had some color to it. This khaki fits," she says. —Karie L. Frost
[Photos: Jane Kratochvil for Cutler Salon]