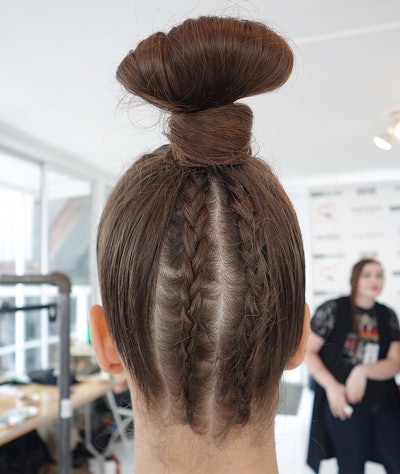 It's the details that count for the hair at the Nicole Bell Design show. For instance, three tiny braids climb up the base of the skull, commencing into a topknot that resembles what hair lead Brittany Dion, who's working with Sutra Beauty and Aveda, is calling a "sushi roll." "Nicole likes street style with class, so we added in those braids as a reference to that," Dion says. The sushi roll exists to "create visual interest," she adds.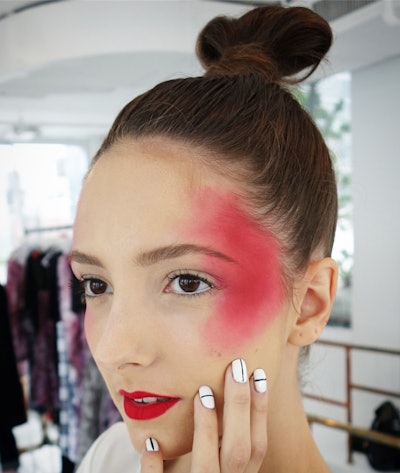 To achieve the street-style look, she uses Aveda Control Force to help sleek-up the shape, keeping the nozzle close to the head so that the application is dense. Aveda Control Paste offers "a good mix between hold and shine, and we're applying it around the edges," Dion says. Now, about that sushi roll: Once the general shape is in place, she inserts the Sutra Beauty Ionic InfraRed Flat Iron into the roll, clamping down and slowly sealing the rolls shape with the iron's heat. "We're literally using the iron to roll the sushi!" Dion laughs. "It creates a smoothness and roundness to the shape." To further streamline the tight updo, she directionally blow dries the contours of the head using a Sutra Beauty Ionic InfraRed Blow Dryer with a nozzle.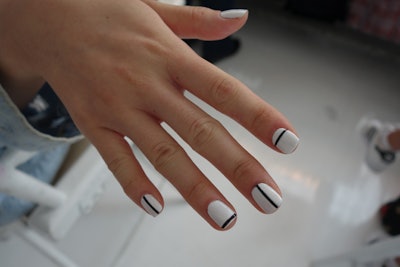 Details in the nails also garner a second look. Deco Miami nail lead Jules says, "There's not a lot of color in the collection so we decided to create a very modular, geometric nail design using black and white. The nails will provide a bit of a contrast." The white base, Coco, plays host to a thin black (Black Like My Soul) stripe that alternates direction from nail to nail. "It's a bold look when you see it. You can wear it with anything," she says.
[Photos by Karie L. Frost]