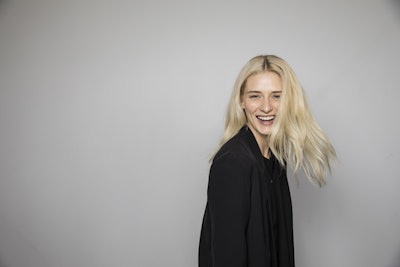 For her 20th anniversary, Tibi designer Amy Smilovic turns to pre-blogger/influencer 1980s street style as her mode of inspiration. "Back then the style was about curiosity, functionality and individuality," says nail lead Jin Soon Choi. To bring this idea to the nails, Choi crafts four different line art nail designs on a base of JINsoon Dew: In every version, two stripes of varying thickness either run vertical or diagonal on the pointer fingers only. "Because the theme is freedom of style, we asked the models to pick their nail color (either a black or lavender that will be released in her JINsoon Fall 2017 collection) and to pick their design," Choi thrills.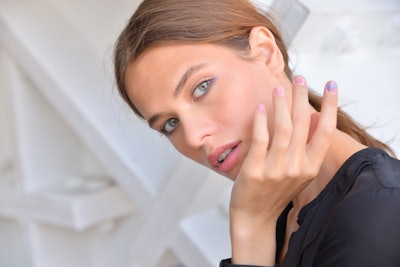 Individuality also pervades the hair look, which Aveda hair lead Frank Rizzeri says 100-percent reflects' Smilovic's organic approach to style. He explains that the star product, Aveda Texture Tonic, lends "hold and separation but doesn't dry out hair." On long hair, he sprays the tonic on in smaller sections because "the hair can get knotted if you spray on too much," he says. Short cuts receive a heavier application, which he blows in with a round brush first, then musses with his hands and a few blasts of a blow-dryer. When the texture is perfected, Rizzeri goes back in with a large curling iron and a wide-tooth comb, and creates very slight bends at the ends. "You don't want a true bend, you just want to 'kick out' the ends. It's really subtle ... it's the difference between hair looking cool and not so cool," he says. Right before models hit the runway, he runs a tiny bit of Aveda Universal Styling Cream through the lengths for some extra separation and catwalk-lights-approved moisture.
For faces, Bobbi Brown makeup lead Cassandra Garcia doesn't deviate from the individual-first approach to the Tibi woman. "We want the look to be custom for every girl—but, of course, as is the Bobbi Brown way, the skin is always fresh and glow-y," she says. To achieve this born-with-it glow, she preps skin with Bobbi Brown Hydrating Eye Cream and Hydrating Face Cream, and then spot-treats areas with Instant Full Cover Concealer. Bobbi Brown Skin Foundation Cushion Compact SPF 35 lends a luminous second-skin effect to the planes of the face, and then the customization begins. "There's a pop of color on the outer edge of the eye; it's different for each girl. And, some girls will get a lip while others don't. We're using the Crushed Lip Color line, which I'm applying with my fingers, to just give a bit of a stain. The effect should be that it looks like their natural lips—just better," Garcia says.
[Images courtesy of Aveda and JINsoon]