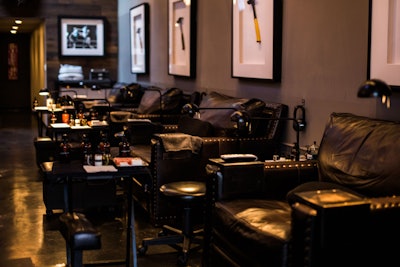 Hammer & Nails Grooming Shop For Guys is going bicoastal. The LA-based shop will open its second branch, in Florida, on May 28 at the Shops at Midtown Miami. Hammer & Nails will kick-off with a grand-opening event to share its man cave nirvana atmosphere, unique manicure, pedicure and barbering services for guys with locals and visitors alike.

The new location will feature industrial lamps and oversized, plush leather chairs with personal 43-inch, flat-screen televisions at each station. Televisions are built into the mirrors lining the barbering room, complemented by a collection of framed hammers dotting the walls. The rugged décor pairs with low lighting and dark wood materials to create the ultimate man cave. Complete with libations and a personal set of headphones for the TVs, Hammer & Nails creates a nirvana for men (and women) who are trying to improve their hand/foot health and grooming habits without the thrills and frills of a traditional nail salon.
 
Leading the Miami franchise are managing partners Richard Spado and Mike Nichols, who recently appointed Ricardo Perez as the general manager and Carlos Ferdinand as the master barber. Together, Perez and Ferdinand oversee the hiring and management process for the staff to ensure an efficient run of operations. The staff aims to provide every client with a personalized, unrivaled experience within a rejuvenating and comfortable environment.
 
Master Barber Carlos Ferdinand joins the Hammer & Nails team with 30 years of practice leading barber shops and salons in key markets such as New York City, Los Angeles and Europe. Time Magazine, Esquire and Icon have used the phrase "the best barber in America" to describe Carlos Ferdinand's work with men's hair and skincare.
 
"Hammer & Nails is at the crossroad between a traditional barber shop and a nail salon. It creates a laidback, communal vibe for its members," says Carlos Ferdinand, explaining the reason he decided to join the team. Most recently, Ferdinand was working for two of the top men's salons in New York City: Spiff for Men and The New York Shaving Company. "We are elevating the playing field by creating a one-stop-shop for grooming needs within a comfortable environment, where men don't have to feel self-conscious walking in. It's a progressive step in the world of men's care."
 
Hot shaves and haircuts are only a part of the services Hammer & Nails offers in Miami. Operating on a monthly membership-based model, the shop's breadth and scope comes in the form of various, distinct manicure/pedicure packages for members to enjoy regularly.
The assortment of packages caters to every preference and addresses various skin concerns. Some of the experiences include:
Milk & Honey Experience –  Designed to hydrate, smoothen and moisturize the skin, this treatment involves soaking the hands and feet in a soothing mixture of warm milk and honey.
Hops & Cedar Experience –  This treatment uses Guinness Extra Stout Beer for its toxin-flushing and antibacterial properties, and uses hops, barley, cedar essential oil and an oatmeal-stout scrub to treat dry, stressed skin.
The Big Daddy Aromatherapy Experience – Beginning with a warm peppermint and lemon soak, this treatment helps to eliminate toxins that cause arthritic pain and aids in relaxation with a stimulating massage consisting of a sugar cane scrub and fresh herbs.
"When we first started Hammer & Nails, we noticed there was a void for a shop that focused on the healthcare of hands and feet that catered to men. At Hammer & Nails, we strive for guests to leave this unique hand and foot grooming shop with more than just well-groomed hands and feet," says Michael Elliot, founder and CEO of Hammer & Nails. "They leave with healthier hands and feet in an environment created to relax and enjoy."
[Images courtesy of Hammer & Nails]