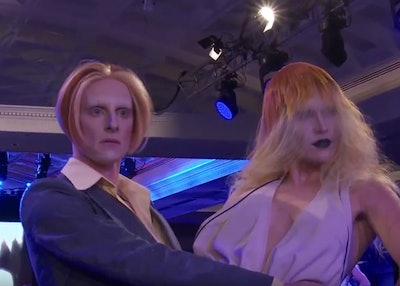 This year at the Alfaparf Milano Fantastic Hairdresser Awards 2016 in Dublin, renowned stylist Paul Stafford paid tribute to the late great David Bowie with a stunning headlining show.
Rather than simply reinvent Bowie's various personas to a soundtrack of his greatest hits, Paul reimagined the journey of his early life to a musical backdrop of various musicians paying their own tribute to his genius.
His show opened with the Young American, circa 1975, burnt out and wasted, yet hugely successful, and fellow lost spirit Kurt Cobain's version of The Man Who Sold the World.
This was followed by a pair of Young Dudes, twin punks, with pastel shades softening their classic choppy cut, to representing a musical revolution that crashed and smashed through glam rock at the end of the 70s, challenging Bowie and all his stadium rock imitators, but done to Momus's take on Ashes to Ashes.
Then came Beck's live version of Sound and Vision, featuring 1,000 singers and musicians, revelling in Bowie's uniqueness and ability to set his own direction. Paul reimagined the iconic Ziggy lightning bolt as a punk-inspired afro counterpoised with Bowie's trademark androgyny, captured by high texture and elegant beauty. The show closed with Bowie as the butterfly, who cast off his demons, and emerged from the 70s fragile yet complete; his feminine side unveiled and accompanied by Bowie's own original version of Life on Mars.
See the breathtaking show in the video below!