The skin care company hosted a 3-day oncology training program on August 15-17, 2016 for estheticians and skin care professionals.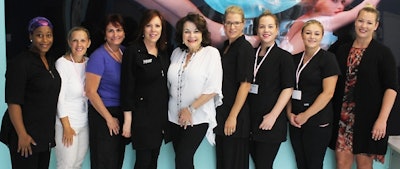 The program was held at The Lydia Sarfati Post Graduate Skin Care Academy located at the Repêchage Headquarters in Secaucus, NJ. The training content for course was created by Becky Kuehn who shares her knowledge, experience, and compassion working with cancer patients from two hospital programs that she created. She is a licensed Master Esthetician, licensed Cosmetologist, and NCEA Certified. Her 31 years of experience and over 6 years dedicated to working with cancer patients, provides intimate knowledge of the essential skills necessary to work with cancer survivors and enhance their quality of life.
Under Kuehn's guidance, attendees learned about oncology and it's relation to skin care. This included:
• A discussion on oncology to have a better understanding of cancer
• How to examine cancer treatments and their effects
• How to identify side effects to create personalized safe treatments
• How to recognize how a cancer diagnosis affects both physical and emotional health
• How to compare ingredients in personal care products
• How to explore the skin care professional's role in skin cancer
• How to manage CAT Forms - Consultation
• A demonstration of a hands-on practical, including Repêchage® products/treatments
• A discussion on marketing to utilize oncology skills in one's community
"I was so honored to be invited to present the 3-day Oncology Spa Solutions training at the Lydia Sarfati Post Graduate Skin Care Academy to Repêchage clients. They were all so amazing and I enjoyed meeting and working with each one of them. Lydia Sarfati is not only a colleague, but also an icon in our industry that I look up to as a mentor and a professional. I learn something new from her every time we meet," said Kuehn.
[Image courtesy of Repêchage]