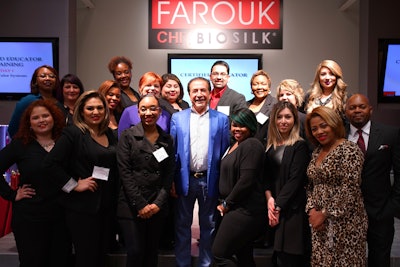 On April 10-12, 2016, Farouk Systems Inc.'s Education Department hosted a three-day Certified Educator Training at the CHI Academy in Houston, TX. This specially designed training is held periodically throughout the year and is open to all licensed stylists who are interested in a career as an educator with Farouk Systems.
Licensed stylists from various parts of Texas, Louisiana and Indiana attended the three day Certified Educator Training Course and received extensive training on CHI tools and guidance on the company's 2016 educational focuses, CHI Color lines and other key product knowledge.
The courses were taught by experienced Farouk Trainers, CJ Hanks and Michelle Boudreaux, through demonstrations and hands-on education. The training concluded with a panel hosted by Dr. Farouk Shami and Vice President of Product Development and Innovation, Lisa Marie Garcia who met and spoke to the newly certified educators, offering words of encouragement as they begin their career with the company. Each attendee was excited with the outcome of their training and eager to share what they learned about the company's products and tools.
According to Dr. Shami, "Our company is based on providing fellow hairdressers with the finest education. I am proud of our Educational Department and our educators for their devotion to excellence as well as the development of our future educators."
The next Certified Educator Training will take place in June 2016. For more information, please visit www.farouk.com.