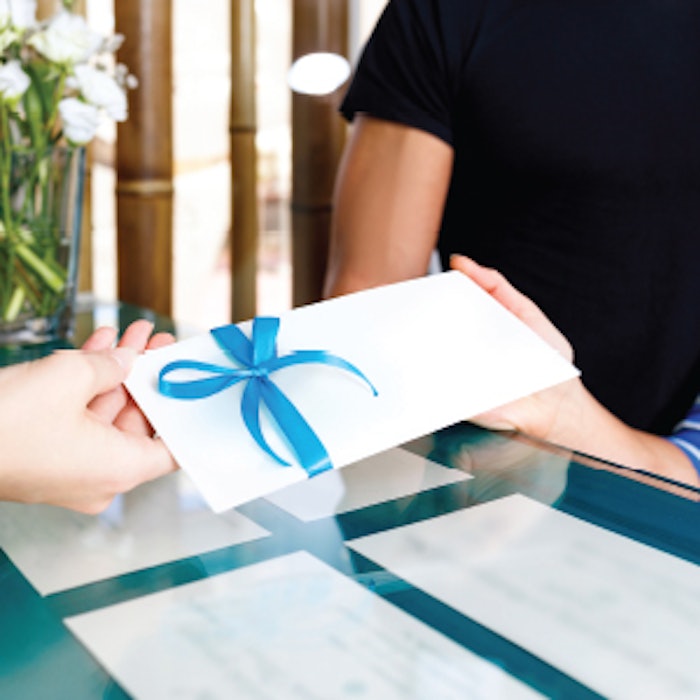 Nikola Cline, founder and president of brand strategy and marketing agency Brandettes, shares seven ways you can market your salon during the holiday season.
---
It's not too early to begin thinking about the impending holiday season—and you should consider how to start ramping up your salon's marketing efforts along with it. While social media and other online forms of marketing (like ads) can help you get more clients in the door and boost your sales, getting the word out is only half the battle.
The other half? Strategizing unique ways to attract these new clients and keep them coming back. And really, there's no better time to do that than the holiday season. People are buying gifts for one another, sure, but equally, they are buying gifts for themselves—and "me-time" gifts always start with pampering and self-care, meaning clients will turn to the salon first to find the perfect gift for themselves. Here are seven ways you can think outside the box and cleverly market to your community for the holiday season.
[1] Play around with new services. There's no better way to refresh your marketing efforts than by promoting a new service. Are you great at updos but don't normally offer them? Are you ready to show off your balayage skills? Whatever you decide, consider using Pinterest (and other social media channels) to show off these new services in advance to promote booking.
[2] Revisit your referral program. Word of mouth is arguably the most effective form of marketing for salons. Provide top-notch service to your clients and they won't think twice about recommending you to a friend, neighbor or coworker. If you don't have a referral program, consider starting one. If you already have one in place, boost it with added bonuses like using stocking stuffer promotions as thank-you gifts for referring friends.
[3] Partner with your community. Get involved in community events in advance for networking opportunities. The holiday season is full of events big and small, and organizers are always looking for vendors or partners to help promote them. You can also try cross-promoting with or inside other local businesses. Offer temporary retail outposts of items your clients would love, like locally sourced self-care products. Offering up a limited-edition gift outpost outside of the salon could mean a boost in your seasonal revenue and more exposure.
[4] Offer gift certificates. Consider including a bounce-back gift or gift certificate for service add-ons during months when business is typically slower. They're also a guaranteed stream of revenue for your business since the guest has already made the purchase—it's a win-win!
[5] Don't forget photos. With increased traffic during the holidays, there's no better time to get much-needed photos and videos to share in your marketing efforts, especially on social media. The best part? You don't have to do much extra work to get this content out because you're already working as you create it. Social media is a major player in the marketing world, so take advantage of it. Challenge yourself to create one Reel or TikTok every week (because video content is now the leader of the pack). You don't have to dance (unless you'd like to!), just let your craft speak for itself.
[6] Create a reason for clients to follow you on social media. "Follow us on social media" slapped across a banner in the window isn't enough to entice someone to follow you, even if you gave them a great service. During the holidays everyone's feed is overcrowded with promotions and sales, and most people aren't looking to add to that heap. You'll have to get creative—what can you offer that will make social media fun for clients?
Model what national retailers are doing, like a "12 Days of Christmas" program where something special happens each day, or social media giveaways with festive packages that can even include offers from other local businesses. People also love to give during the holidays; perhaps offer a donation to a local charity for every new follower.
[7] Transform your salon into a relaxing escape from the holiday stress. People love getting their hair done not only to look and feel good, but because for a few hours, they have a respite from reality. Your salon offers clients the opportunity to slow down and enjoy the moment. To make things even more relaxing for guests, consider expanding your service offerings with upgraded scalp massages or a conditioning gloss during the holiday season. You could also offer a complimentary glass of wine, a holiday cocktail or an alcohol-free alternative and make it a package deal. Offering fun, seasonal services that give people a little recharge goes a long way with both new and existing clients—they'll feel valued, cared for and excited to come back to the salon.
The holiday season is busy for you as a salon owner, but that doesn't mean it can't also be fun. Play around with these ideas and make them work for your business. This is your opportunity to get creative and do something you've never done before. Tap into what your specific clientele would enjoy and open up opportunities to connect with both them and the community around you.