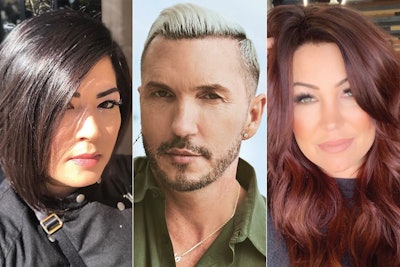 Lost your groove? Stylists share how to fall back in love with hair.
Passion can be difficult to define. We all know it when we feel it—but should we lose that sense of drive and motivation, the actions required to regain it often seem elusively intangible. Like many other artists, hairstylists tend to rely on their passion for their craft to survive and thrive; it's the fuel that keeps them powered. But what happens if those fires dim? Does workplace unhappiness signal a career death knell, or can the spark be rekindled? We dove deep into an often-skirted topic for a soul-baring look on why it happens, and how to get that feeling back.
Combating Career Monotony
"I lost my passion three or four times over the course of doing hair for 27 years," shares Alfredo Lewis, Matrix global artistic ambassador. Each instance coincided with a feeling of boredom: The artist had grown stagnant, signaling the need for a shake-up. The first time, he expanded his skill set, taking courses to progress from a colorist to a cutter and stylist. That enabled him to increase his client roster and provide a full range of menu services to every guest. Next, the pro hooked up with Brazilian Blowout. "I'd never considered myself an educator, but suddenly I was hosting classes all over the United States, and then launching the brand in 25 countries," says Lewis. "Getting out of my comfort zone woke me up again."
Every time Lewis slumped, rather than give up, he instead reimagined his career. As a platform artist, Lewis is routinely called upon to share his knowledge with a packed auditorium of colleagues and guests. "I almost threw up the first time I went onstage, and my hands shook so hard during my demonstration I was sure the entire room could see," he recalls. "Even now I still get butterflies—but that's the point." Lean into something frightening or uncomfortable to help combat career ennui. "Take a class, go to a hair show or team up with someone new at your salon," suggests Lewis. "Find fresh inspiration by trying something you've never done, or would normally never think to do." "I'm never satisfied, no matter what I do. I always start feeling like I'm not busy enough, or not making enough money, so that pushes me to keep things fresh and new," says Lewis.
RELATED: Hollywood's Risk-Takers Reveal This Year's Holiday Party Hairstyles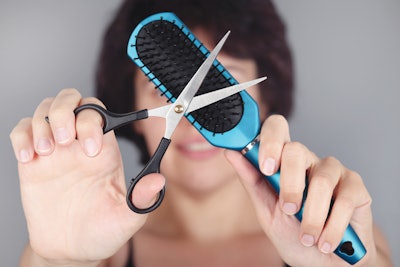 Pushing Past Personal Problems
Another obstacle for maintaining motivation: It can be hard to leave personal pain at home, especially when life takes a sudden downward turn. "I lost my passion for this industry after going through a horrible divorce," reveals Jenn Malone, colorist at Kut Haus Salon in La Verne, California. "I became unhappy in my career because I was so overwhelmed with my personal life that it started to reflect in my work." The cycle can be vicious: Lack of effort leads to loss of clients, which in turn leads to inability to pay the bills. "That went on for nearly five years, and I blamed everybody but myself," recalls Malone. (For instance, it was the salon owner's fault because he didn't advertise enough. The receptionist never gave her walk-ins. Customers were vicious; they complained because they were too demanding.) "I was the queen of excuses," says Malone. She was also in a serious bind, unable to afford rent, car payments or, one year, a Halloween costume for her son. 
Broke and miserable, the artist made a last-ditch effort. "I bought a ticket to a class at a nearby salon," she says. "I couldn't afford it, but I couldn't afford not to go either." Post-purchase, the single mom had $54 left in her bank account—but that day changed everything. Watching successful hairdressers share their love of the craft re-sparked passion that had long been missing. Malone began assisting more experienced stylists on her days off. She did hair for free, so as to garner good content to post on social media. "Most importantly, I stopped making excuses," says Malone. "Clients came back, and I began getting more referrals as people noticed my hard work." Ultimately, the pro believes this industry is worth remaining part of precisely because of its inherent freedom—you get out what you put in. "For me, being a mom comes first," says Malone. "I can go on my son's field trips or volunteer in his classroom while still making good money and getting to be creative every day." "Doing hair is an emotional roller coaster; we go through ups and downs. One minute you're having the greatest day of your life, the next you feel defeated by a client's criticism. Remember the slumps are temporary," says Lisa Walker.
Building Skills and Self-Esteem
When colorist Lisa Walker switched salons soon after getting married, buying a house and having a son, she found she couldn't keep up with the fast-paced work style of her new studio. "My idea of busy was four or five guests per day, but I was watching the other stylists around me turn clients every 30 minutes," recalls the Balayage Boot Camp educator. "Instead of trying to meet their enthusiasm I viewed it as a personal defect, and it killed my confidence."The last straw was when the owner moved her station—the pro took it personally and hard. "I started looking for jobs outside the industry, but that only made me sadder, because I've been doing hair since I was 17," says Walker. "I get to be creative, make people feel beautiful and build strong relationships. The power hairdressers wield cannot be matched," says Jenn Malone.
RELATED: 2020 NAHA Finalists Announced
Ironically, it was moving to another station, located near the back of a different salon Walker soon joined, that helped turn her career around. Giving her career a final shot—while simultaneously trying to remain unobserved and inconspicuous—Walker found herself quietly watching fellow stylists at work, and she suddenly regained her interest. "I joined online hair forums and read everything I could find about color," she recalls. In the process, she made a surprising discovery: She didn't know that much about the technical side of her profession. At first, she kept her newfound knowledge secret, thinking colleagues would tease her for being uninformed. "But then I realized other colorists were just like me, so I began traveling and sharing," Walker recalls. Finding her voice as an educator enabled her to stop worrying about keeping pace with others, and instead strike the right balance between professional and personal responsibilities. Says Walker, "Rebuilding my confidence brought back a feeling of passion that had long been missing from my work."
In It to Win It
Before you throw in the towel, read these tips for how to overcome the urge to give up.
A Take a class, attend a hair show or find a mentor. Education needn't be expensive; with a little digging, you're sure to find some accessible options.
Invest in products, tools or color. It's always fun to play with a new toy or learn a unique technique.
"Get inspired by stepping away from hair," suggests Alfredo Lewis. "I go for a walk, look at architecture, travel and immerse myself in different cultures, and then always come back ready to test a new idea."
"If you feel like you know everything, you'll quickly be hit with the reality that you don't, which can lead to loss of passion," says Jenn Malone. "Beauty school doesn't always prepare students for the challenges of building clientele, so take time to assist at first."
"Birds of a feather flock together," says Lisa Walker. "Instead of spending time with other stylists who aren't busy or motivated, surround yourself with positive, uplifting energy."
[Images: Courtesy of artists; Bigstock]