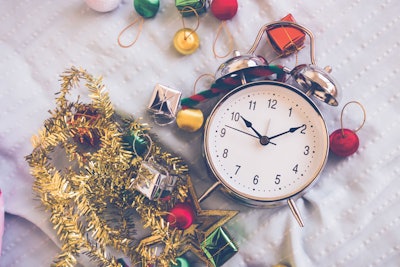 End-of-year holidays: a flurry of days when friends and family gather and celebrate the most joyous time of the year. Between gift shopping and party-hopping, finding the hours to balance work and life can be hard. Knowing how to manage the clock while at work not only saves you time to enjoy the season, but also reduces stress, lowers anxiety and improves the quality of your craft year-round. Here, we share a few ways to get the most out of your time.
Set Daily Goals
When you're booked solid with clients, it's easy to lose track of time. Creating short- term goals with daily to-do lists will allow you to better prioritize your time and help make the day feel less overwhelming. Bonus: Having a visual reminder of the tasks you need to tackle each day can eliminate time-wasters like spending too much of your energy scrolling through social media feeds.
RELATED: Top Beauty Educators on Inspiration and Ongoing Education
Communicate with Clients
Before jetting off for the holiday break, make sure your clients are aware of your out-of-town plans. Prep them for your departure by sending out an email four to six weeks in advance with details such as your leave and return dates as well as a reminder to book an appointment before your retreat in order to ensure an appointment upon your return. Reinforce communication with visual cues in the salon, such as a sign perched at your station that calls out vacation details.
Be Organized
Having a messy station can lead to unnecessary time lost. Instead of discarding appliances around your workspace, try storing unused tools in a caddy like the Hot Tools Appliance Caddy, which features heat-resistant pouches for thermal tools and four outside slots perfect for brushes, combs, shears, styling products, and more.
RELATED: Just in Time For the Holidays, Stylists Reveal How They Achieved Their Celebrity 'Dos
Manage Expectations
During the busy festive season, map out a realistic workload per day. Instead of booking back-to-back clients until close, allow yourself 30 minutes between clients to ensure the quality of your work. Apply this idea to social media as well. Instead of trying to post two to three "OK" images a day, carve out time to prepare a client or model and perfect the lighting and location to get one quality shot.
Monitor Caffeine Intake
For most, starting the day with a cup of coffee is a must. But is first thing in the morning ideal for a caffeine boost? Research presented by Penn State University suggests the best time to consume caffeine is determined by cortisol, the body's main stress hormone that makes people feel alert. According to the university, the best time to have caffeine is when cortisol levels are low— which may not mean first thing in the morning. When most people are having their first cup of joe at 8 a.m., cortisol is high, meaning your body already feels naturally caffeinated. Penn State's research suggests the best time to hit the Starbucks line is between 10 a.m. to 12 p.m. and 2 p.m. to 5 p.m.
[Image: Getty Images]