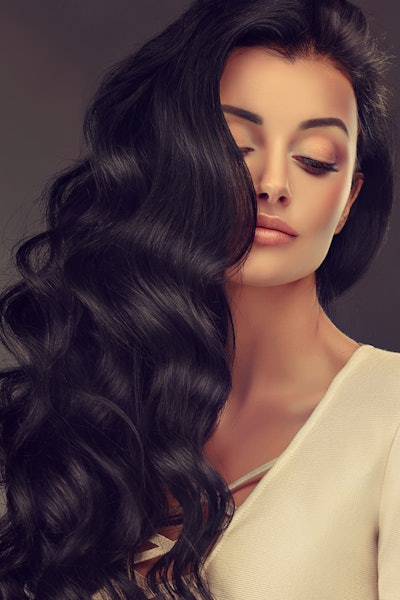 Thinning hair is a common issue that can be caused by a number of factors, among them genetics, medication, immune disorders, extreme stress, and tight weaves or improperly applied extensions. According to recent statistics provided by Bosley Professional Strength, 38 percent of women start to notice thinning hair around the age of 35, and by the age of 60, 50 to 60 percent of women will have thinned hair. Now for some good news: Thanks to a wave of effective products and treatments, the ability to tackle long-term hair loss is finally in sight. Read on to discover the latest options that you can share with clients whose tresses are beginning to wane.
The main cause of thinning hair is genetic predisposition," says Michelle Blaisure, Bosley Professional Strength product and technical specialist and certified trichologist. "In other words, you inherit genes that are responsible for hair growth on top in the hairline area. About 60 to 70 percent of men will thin by age 60; approximately 20 percent of women inherit this gene as well, but the majority of females are prone to hair loss due to nongenetic factors."
Diet and Lifestyle
Eating a variety of nutrient-rich foods like probiotics, vegetables and healthy fats helps populate the gut with good microbes, which is the key to optimal hair health, says Blaisure. She recommends the 20/80 rule, which consists of eating good whole foods 80 percent of the time, then your body can handle the processed and fast foods the other 20 percent. "Take a good multivitamin to make sure you are getting the right balance of vitamins and minerals such as B12 and vitamin D, which many people are low in, along with zinc and magnesium," explains Blaisure. "Eat wild-caught salmon and grass-fed beef at least once or twice a week to get good omega-3 fats in your diet. Fish oil is another good option, along with flaxseed oil, if one is a vegetarian."
Other lifestyle choices that can be recommended to clients with thinning hair include getting enough sleep and reducing stress. "Most people need seven to eight hours of sleep," says Blaisure. "I talk to so many moms who are sacrificing sleep to try and keep everything going, and their mind and body pay the price. Stress is also a known cause of hair loss for women, and that may be reduced by simply going for a walk, listening to music, reading an engaging book or watching a TV show for 30 minutes without interruption."
RELATED: How to Keep Curly Hair from Spiraling Out of Control
Best Beauty Practices
Use products designed for scalp health and thinning hair, as they are formulated differently than traditional hair products. "It's also essential to shampoo at least once a week, as the scalp microbiome can get out of balance and that's when we start seeing more scalp disorders," says Blaisure. "Opt for a thinning hair cleanser to remove any buildup and to create an optimal environment for healthy hair to grow."
She advises treating the hair gently when blow- drying and styling as fragile hair gets damaged and easily breaks. "When hair starts to thin, it's important to address it early as it's easier to keep it than to get it back," she explains. "Give hair a rest from extensions, tight ponytails, braids and weaves periodically, as all that stress on the hair may weaken it and lead to follicular damage—and in some cases, permanent hair loss."
Mane Maximizers
From supplements to scalp revitalizers, these products will give clients' thinning tresses a much-needed boost.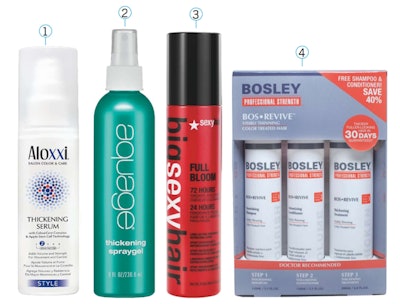 1) Formulated with apple stem cell technology and advanced thickening agents, Aloxxi Thickening Serum strengthens from the base while expanding the volume of the entire hair shaft for fuller tresses.
2) Thicken hair with Aquage Thickening Spraygel, which utilizes breakthrough Ultraflex polymer technology to add body.
3) 3 Bulk up strands with Big Sexy Hair Full Bloom blow-out spray, which provides fullness for up to three days.
RELATED: Celebrate Your Client's Natural Texture with These Curly 'Dos
4) Bosley Professional Strength Bos•Revive System for Color Treated Hair is a three-step kit with a shampoo, conditioner and leave-in that rejuvenate and recondition fragile hair while extending color.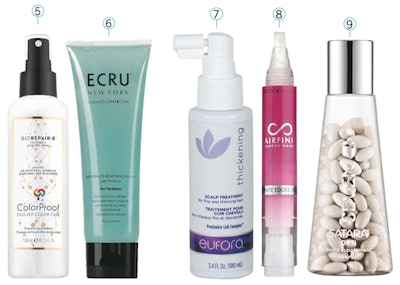 5) ColorProof Evolved Color Care BioRepair-8 Thickening Blow Dry Spray grips individual hair fibers, adding density and volume while delivering the power of active plant stem cells to restore aging hair tissue.
6) ECRU New York Marine Thickening Balm utilizes algae extract, vitamin B and keratin to strengthen and plump strands from the inside out. 
7) Eufora Thickening Scalp Treatment stimulates follicles while nourishing and protecting the scalp with botanical extracts, amino acids and antioxidants.
8) Revitalize hair and prevent breakage around the hairline with Hairfinity Infinite Edges Serum, which restores moisture, fortifies and protects through vitamins and active botanicals.
9) SEVEN Haircare Satara Opti Biotin Supplement features a proprietary blend of botanicals designed to fortify nails and support the growth of healthy, fuller hair.
Thinning Hair Helpers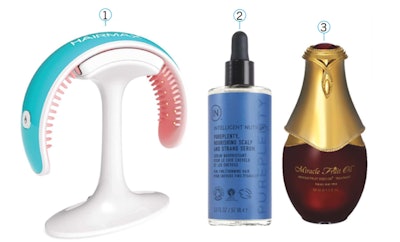 1) Designed to treat hereditary hair loss, the HairMax LaserBand 41 stimulates follicles at a cellular level via safe and nourishing light energy that restores the growth cycle for denser hair.
2) Intelligent Nutrients PurePlenty Nourishing Scalp and Strand Serum promotes thriving follicles and inhibits DHT with a highly concentrated level of Ajuga plant stem cells and saw palmetto, while pea sprout bioactive builds density.
3) Miracle Fruit Seed Oil Treatment is rich in phytonutrients and resembles the chemical composition of the natural oils made by sebaceous glands in the scalp, helping to prevent and reduce hair breakage and increase mass and density.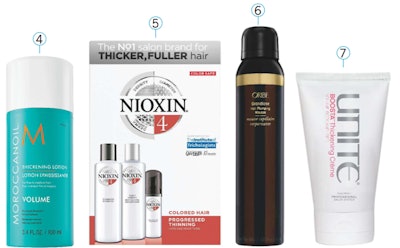 4) Expand the hair shaft and strengthen strands with Moroccanoil Thickening Lotion, which also moisturizes via vitamin-rich argan oil.
5) Nioxin 3-Part System Kit for Colored Hair increases hair diameter while providing UV and color protection with Bioamp, Pro-Color Shield and Activ- Renewal technologies.
6) Oribe Grandiose Hair Plumping Mousse keeps styles soft while making them appear fuller via panthenol, hydrolyzed wheat protein and structure- forming starch polymer.
7) UNITE Boosta Thickening Crème features a lightweight heat-activated formula that lends thick, touchable volume to fine, limp hair.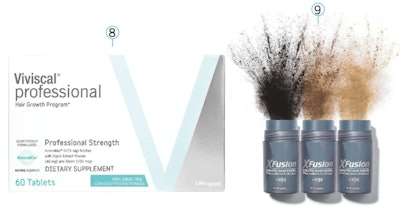 8) Viviscal Professional Tablets are formulated with exclusive marine complex AminoMar along with biotin, apple extract and vitamin C to promote hair growth.
​9) Resistant to wind, rain and perspiration, XFusion Fibers by Toppik are derived from all-natural keratin proteins that magnetically bind with existing hair to make tresses look thicker and fuller. 
[Images: top - Getty Images; other images courtesy of manufacturers]