Hair artist Jason Hall lives for color: Thus, when tasked by L'Oréal Professionel to experiment with its fresh Colorful Hair line, the UK-based session stylist and educator simply couldn't refuse. "I wanted to convey that bold haircolors can be quite commercial," notes Hall. "And I was so pleased with the amount of variety this color line has to offer–I just let my imagination run wild."
PHOTOS: The Sassoon Academy Blends Avant-Garde and Wearable Techniques
Purple Rain: All hair was pre- lightened to an ash blonde base, then a mixture of 3:4 Clear and 1:4 Electric Purple was applied to roots and spread at random through mid-lengths and ends. Afterward, a mixture of 1:2 Navy Blue and 1:2 Clear was placed onto mid- lengths and ends.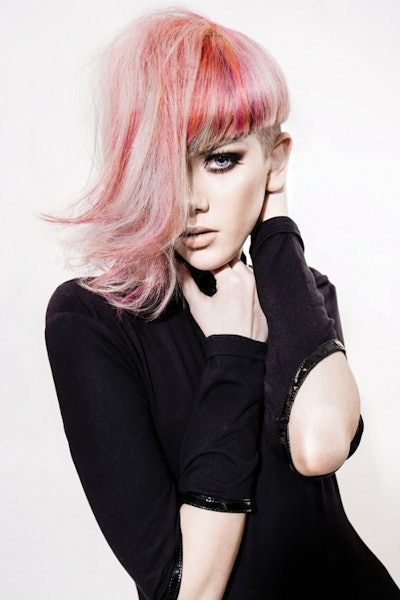 RELATED: Redken Artist Matthew Tyldesley's California Dreaming Compilation
Think Pink: Hair was pre- lightened to an ash blonde base. Next, sections were colored at random with myriad combinations of Pink Sorbet, Sunset Coral and Electric Purple.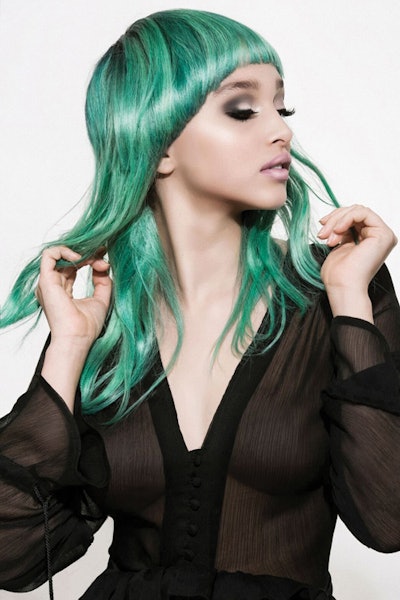 Go Green: Strands were pre- lightened to a pale yellow. Next, a circular three-inch-wide section was created on the crown alongside roots and mid-lengths, which were subsequently covered with a navy blue blend. The rest of the haircolor was made using different variations of Iced Mint and Clear in radial sections, working outward from the crown.
[Images: Hair: Jason Hall; Photography: Howell at Jarred Photography; Makeup: Alanah Carson]