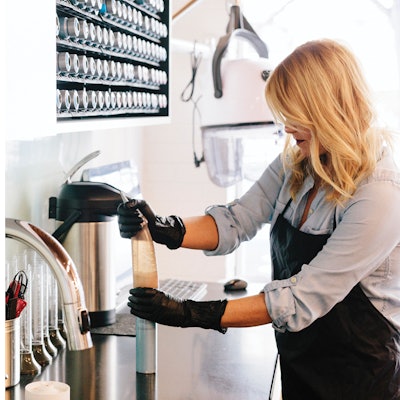 Protect your skin from these common issues associated with hairdressing.
Up to 70 percent of hairdressers suffer from some form of skin damage during their career, be it in the form of chemical burns, dry skin or calluses, to name a few. Due to repeated exposure to hair dyes, bleach, water and heat styling tools, precautions should be taken in order to reduce (and ideally avoid) these occupational hazards that happen on the job. Here, five of the most problematic skin concerns that stylists face and how to address them.
1) Dye Stains: Permanent and demi-permanent hair dyes are made of various chemicals that bind to keratin—the primary protein in hair, skin and nails. Just as dyes alter the color of hair, they can also affect the color of skin and nails. Wearing gloves is a must, but if you're still covered in dye after coloring a client, you might want to switch up the tools you're using. Use a smaller brush for a more precise paint job, and use a magnifying mirror to better see the color along the hairline. Although hair dye is relatively safe on the skin for short periods of time, it's a good idea to gently remove it with soap and water as soon as you can to prevent it from being on skin too long. And be careful not to rub skin raw in order to avoid further irritation.
RELATED: Beauty Pros Share Tips For Giving Clients a Flawless Blowout
2) Calluses: These unsightly and sometimes painful areas of thickened skin often form on the hands after regular use of scissors or shears. "Calluses are the body's attempt to toughen skin and prevent or minimize injury when it is subjected to repeated, usually low-grade irritation such as rubbing, so in a way they are a good thing," says Dr. Philip Werschler, founding member of Spokane Dermatology Clinic and Werschler Aesthetics. "But sometimes calluses cause their own problems, like getting in the way of the tool being used, or they become inflamed and tender." Always moisturize after washing your hands, and pat them dry rather than rubbing on a towel to prevent skin irritations.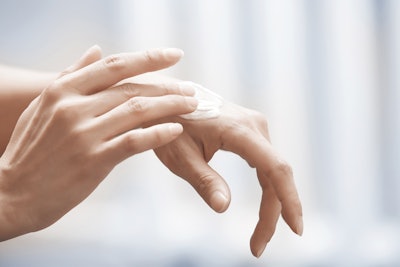 3) Dry Skin: While the skin on the hands is very tough, repeated exposure to water, soap, color and chemical irritants can disrupt the protective outer layer of the skin. This breakdown can cause severe dryness, splits and cracks that further predispose the hands to injury and infections. Use hand creams with ultra-moisturizing ingredients that nourish and heal skin, such as Parodi Daily Moisturizing Hand Cream, which is formulated with proprietary blend HypeauPro to soften and smooth hands, or Surface Char Skin Relief Cream, which attracts impurities with activated charcoal powder while sandal tree extract speeds the delivery of D-biotin, babassu and moringa oils to relieve and heal dry skin. Cuccio Naturalé Milk & Honey Butter Blend contains honey, a natural humectant that soothes, moisturizes and adds nutrients while lactic acid from milk refreshes and stimulates skin.
VIDEO: How to Create This Light Rose Gold Hair Color
4) Allergic Reactions: With hair processing of any type, there is the potential for an irritant reaction or allergic contact dermatitis to develop. "With hair products that are used to color, texturize or otherwise alter hair's natural appearance, allergic reactions can occur," mentions Dr. Werschler. "These are quick to appear and are very uncomfortable with swelling, blisters, pain, even fever and chills. Irritant reactions typically occur because of too much exposure, or too long of an exposure to certain chemicals and hair products. Symptoms are typically milder with swelling, itching, burning, peeling, flaking and raw redness." Irritant reactions tend to clear up rapidly after ceasing to use the product that is causing the problem. If an allergic reaction occurs, immediately rinse the product from the affected area using lukewarm water. If the symptoms do not rapidly improve, a dermatologist or doctor may need to be seen.
5) Soft Nails: Nails become weakened and brittle as a result of repeated exposure to soap and water, chemicals and hairstyling processes. "Consider cuticle creams to repair," notes Dr. Werschler. "Wearing gloves whenever practical is always a good idea to protect skin and nails."
[Images: Getty Images]