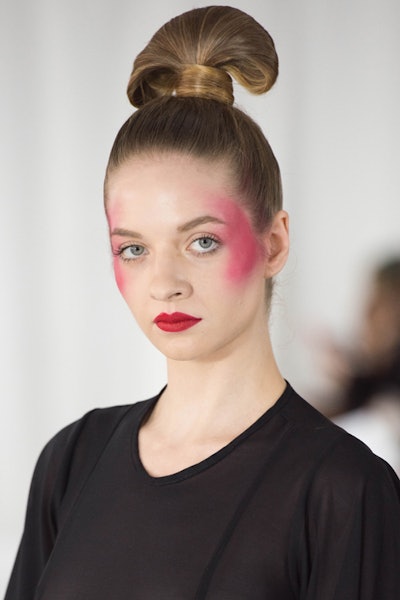 Interesting details in a sushi-inspired topknot deserve your attention at the Nicole Bell Design show.
Backstage at the Nicole Bell Design show, you'd be forgiven if you couldn't draw your eyes away from the blinding blush that bleeds from the temple to the cheek to focus on the accompanying beauty. But it's the blink-and-you-might-miss-it details found in the hairstyles at the Nicole Bell Design show that truly warrant further investigation. For instance, two tiny French braids climb up the base of the skull, commencing into a topknot that resembles what hair lead Brittany Dion, who's working with Sutra Beauty and Aveda, is calling a "sushi roll." If you're not trailing the model, the design element could easily go unnoticed, but Bell sees it as that something extra that stops people—like street-style photographers—in their tracks. "Nicole likes street style with class, so we added those braids as a reference to that," Dion explains. What about that sushi roll topknot? Could it not warrant a few camera flashes on its own? "It exists to create initial visual interest," Dion says.
RELATED: How to Get the Look - Sara Sampaio at the CFDA Fashion Awards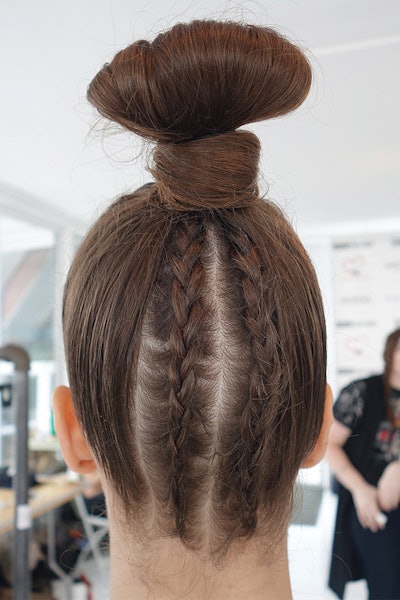 To achieve the street-style look, she uses Aveda Control Force to make the shape sleeker, keeping the nozzle close to the head so that the application is dense. Aveda Control Paste offers "a good mix between hold and shine, and we're applying it around the edges," Dion says. Now about that sushi roll: Once the general shape is in place, she inserts one plate of the Sutra Beauty Ionic InfraRed Flat Iron into the roll and carefully clamps down, following the curve of the cylinder, slowly sealing the roll's shape with the iron's heat. "We're using the iron to roll the sushi!" Dion laughs. "It creates a smoothness and roundness to the shape." To further streamline the tight updo, she directionally blow-dries the contours of the head using a Sutra Beauty Ionic InfraRed Blowdryer with a nozzle. When all is said and done, the hair holds its own against the blush—mission accomplished.
RELATED: Give Your Clients Memorable 'Dos Inspired by Hollywood Elite
[Images: Top and bottom courtesy of Edwin Alvarado; middle courtesy of Triple B Photos]