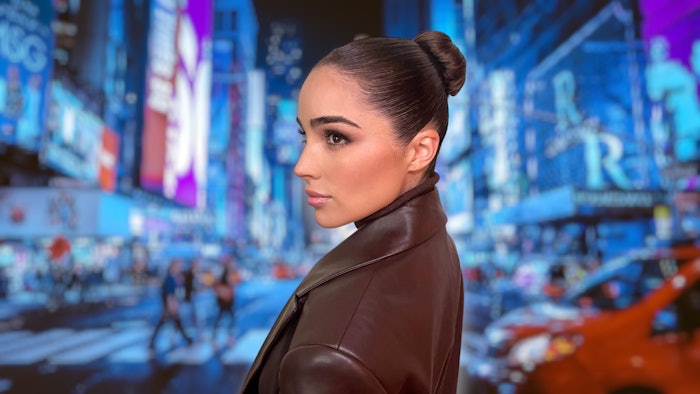 Courtesy of Uberliss
Renowned celebrity hairstylist Dimitris Giannetos made headlines once again at New York Fashion Week (NYFW) with his jaw-dropping "Expensive Girl Bun" hairstyle for Olivia Culpo.
Giannetos (@dimitrishair), known for his innovative and trendsetting styles, worked his magic on Olivia Culpo's hair, leaving fashion enthusiasts in awe. The "Expensive Girl Bun" is set to be the talk of the fashion world this season.
To achieve this show-stopping look, Giannetos followed a precise hair styling routine using Uberliss products. 
You can follow the step-by-step tutorial below to recreate the look.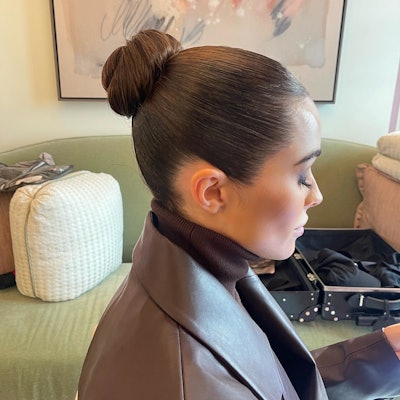 How-To: 
The process began with towel-dried hair. Giannetos applied Uberliss Frizz Elixir generously, ensuring Olivia's hair was primed and protected against heat while maintaining a humidity-free finish.
He proceeded to blow dry the hair meticulously using a round brush to create a smooth and polished base.
Giannetos then divided the hair into sections, starting from the middle of the crown. Employing a diamond-shaped parting technique, he sprayed each section with copious amounts of Uberliss Flexin Hairspray, which not only offered superior hold but also made shaping and styling effortless. Elastic bands were used to secure the hair at ear level, ensuring a snug fit.
Continuing with the remaining hair, Giannetos pulled it back, connecting it with the initial small ponytail. He maintained a subtle middle part and, finally, twisted the ponytail into the perfect "Expensive Girl Bun."
To guarantee a flawless finish with no stray hairs, Giannetos applied an additional layer of Uberliss Flexin Hairspray, creating a look that stayed in place throughout the event.
The "Expensive Girl Bun" by Dimitris Giannetos is destined to be a sensation in the fashion world, offering a blend of elegance and edginess that perfectly complements the modern woman. Giannetos and Uberliss have once again demonstrated their prowess in pushing the boundaries of hair fashion.