Courtesy of KEVIN.MURPHY
Palomo Spain's SS24 Runway Show at New York Fashion Week featured the collection "Cruising in the Rose Garden." 
KEVIN.MURPHY Style Master Sarah Lund (@sarah.lovekm) led the team responsible for the creating the hair looks for the show, sponsored by cult-favorite hair brand KEVIN.MURPHY. 
"For Palomo Spain's SS24 Show, it was all about keeping everything sleek and away from the face. From loop ponytails to braids, the peek-a-boo red panels were a cool nod to the '90s and really worked to elevate the look, while the rest of the looks highlighted natural texture," Lund shares. "What I love about these looks is that the clothes become the main focus - it's pulling everything away but having an elegant and sophisticated finish to the hair." 
For the show, Lund used KEVIN.MURPHY's newly launched KILLER.TWIRLS for textured hair, along with cult-favorites HAIR.RESORT, YOUNG.AGAIN, SHIMMER.SHINE & SESSION.SPRAY for slick back, edgy looks. 
"We tried to do something really elevated and elegant without going too crazy for our key looks," Alejandro Palomo, Creative Director for Palomo Spain explains. "This collection is more PALOMO than ever. It's been an exercise of looking at my work, what I think people are expecting from me, and being honest to myself. It's a grand show, really romantic on one hand, and very rough, sexual, almost animalistic on the other." 
Below, Lund shares a breakdown for four of the hair looks created at the show. 
Slick Back With a Pop of Red
"We added some unexpected pops of red in some of the models to tie in with the red clothes. The peek a boo red panels were a cool nod to the '90s and really worked to elevate the look," Lund says. 
Sleek Loop Ponytail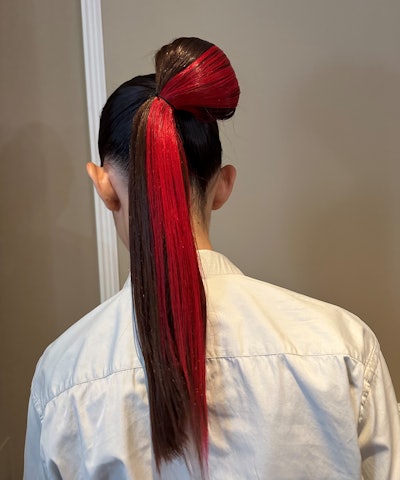 "We wanted to stay with the sleek look for long hair so the hair was pulled back into an ultra tight ponytail," Lund reveals. "To add a touch of sophistication, we created a geometric loop with the ponytail and added a pop of red."
Sleek Braids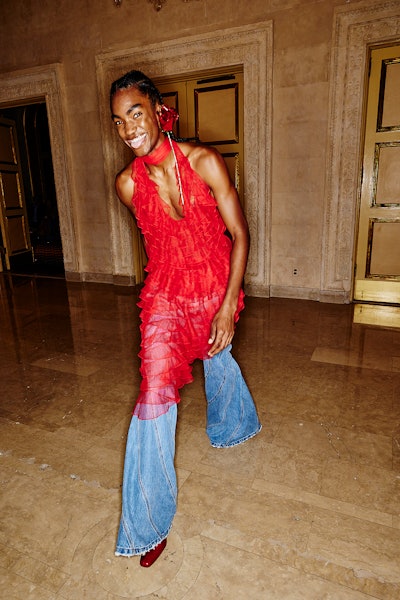 "For natural texture hair, we wanted the look to come straight back so we braided the hair into cornrows, braided tight to the scalp and finished with SHIMMER.SHINE," Lund divulges. 
Tight Natural Shape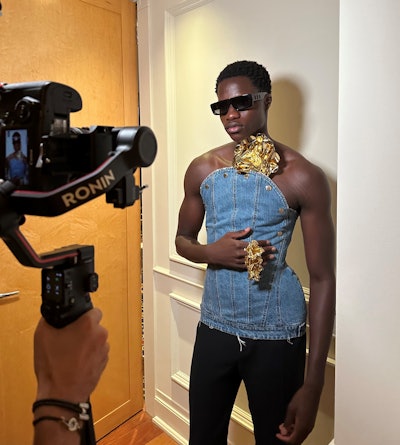 "For natural texture with shorter lengths, we kept the texture intact just defining it with KILLER.TWIRLS and molding it into a square shape," Lund says.