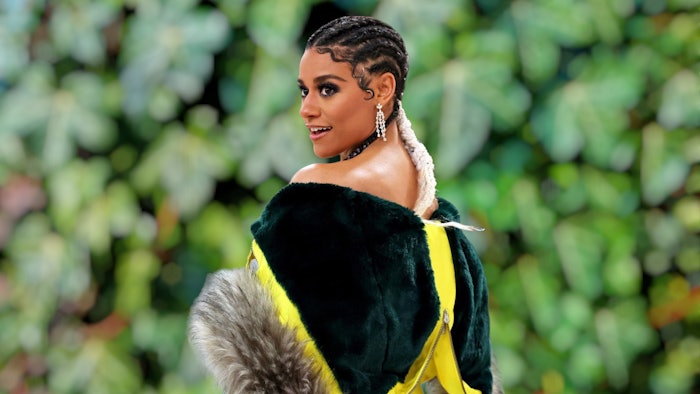 Courtesy of Ariana Debose (@arianadebose)
The 2023 Met Gala was a night to remember, with celebrities showcasing their stunning looks. Among them was Ariana Debose, who stunned in a hair look that paid homage to Karl Lagerfeld's iconic hair color and her own heritage.
Debose's hair was styled by celebrity stylist Araxi Lindsey (@iamaraxilindsey), who combined different ideas to create a unique look. Joseph Altuzarra envisioned the classic finger waves of Josephine Baker, while Debose and Lindsey had a vision of white ombré cornrow braids. Together, they created a look that was edgy, artsy and celebrated cultural greatness.
To achieve this look, Lindsey used the As I Am Rice Water Collection for shampooing and conditioning. The collection is known for being light with a gentle fragrance, making it the perfect choice for Debose's hair.
After a blow dry to smooth her hair for braiding, Lindsey went for an artsy parting with a little bit of edginess. The result was cornrows going into a fishtail braid with a tribal finish. To smooth and condition Debose's edges, Lindsey used the As I Am Classic Curling Jelly. The Curling Jelly added natural moisture to Debose's hair and allowed movement until it dried into place.    
"I love the natural moisture that the As I Am Curling Jelly gives," Lindsey said. "The Rice Water Collection is perfect for keeping hair light and smelling great. I'm thrilled with how this look turned out and I'm honored to have been a part of Ariana's Met Gala experience."
The Met Gala is known for its extravagant fashion and beauty looks, and Ariana Debose's hair was no exception. With its cultural inspiration and unique style, her hair was a standout feature of the night.