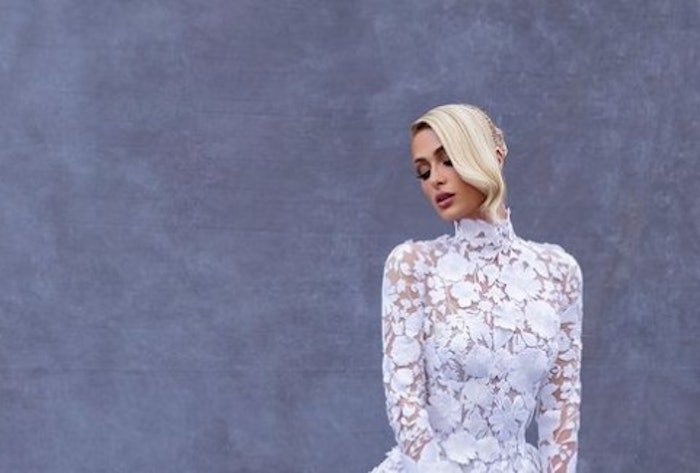 Courtesy of @GermanLarkin
Paris Hilton has tied the knot, wearing a beautiful sleek bun styled by Eduardo Ponce.
Hilton said "I Do" wearing an Oscar de la Renta gown with her hair pulled back in a sleek bun with side-swept bangs. Ponce created the style using UNITE Hair.
"Our overall inspo was timeless beauty. We wanted Paris to look fresh and chic. The dress is such a masterpiece; we didn't want to overdo the glam. We kept it clean and simple," says Ponce.
Here is the step-by-step product breakdown on how Hilton's bridal style came to life.
Get the Look:
To prep, apply 7SECONDS Detangler on damp hair followed by BOOSTA Volumizing Spray.
Blow dry and section out bangs. Start shaping the back side, while adding in Luxy clip-in extensions for fullness. Use SESSION-MAX Spray at the base of the hair after teasing before clipping in extensions

—t

his adds more grit for extensions to stay in place.
Shape the hair into a mid ponytail, using SECOND Day Finishing Cream, SESSION-MAX Spray and a Utiles hair tie to secure the ponytail.
Use a cocktail of SECOND Day Finishing Cream and SMOOTH&SHINE Styling Cream throughout to shape the ponytail.
Once everything is pinned into place, work on the bang pieces and add in more Luxy clip-ins for length.
Using a T3 Micro curling iron, shape the bangs and use SMOOTH&SHINE Styling Cream to tame any flyaways.