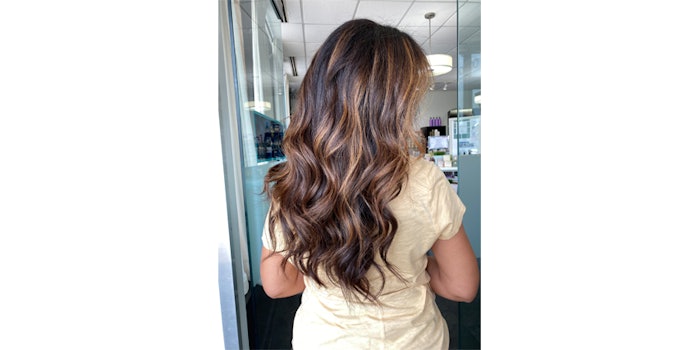 Courtesy of @eviedzine
Evie Peterson, a Sam Villa ambassador, shares a caramel balayage formula she uses on a client with dark, naturally curly hair.
Evie lifts the base every three weeks, does balayage every two months, and because the guest's hair tends to naturally get warm, she tones her every month as well.
"I do more balayage in the summer months but come fall we customize the service by doing fewer pieces and darker colors so they're more subtle," says Peterson.
Caramel Balayage How-to
Base – Every three weeks
Redken Cover Fusion 5NN and 7NGI with up to 20 Volume Pro-oxide
Balayage – Every other month in spring/summer – less in fall/winter
Redken Flash Lift Bonder Inside with up to 20 Volume Pro-oxide
Tone with Redken Shades EQ 8N with Processing Solution - guest lifts warm and wants to stay warm
Before doing balayage:
Brush hair with a paddle brush to smooth
Puff base up and shake hair to see where it naturally falls
Ask the guest how high up they want accents to go if they want a money piece in front and how light they want to go.
Tone – Once a month
Redken Shades EQ 8N with Processing Solution
Finish
Dry with a Sam Villa Light Professional Ionic Blow Dryer and Signature Series Oval Brush/Large, the ions combined with the boar bristles create a really smooth shiny surface for the curl.
Curl with a Sam Villa Artist Series 2-in-1 Marcel Iron and Wand 1.5".