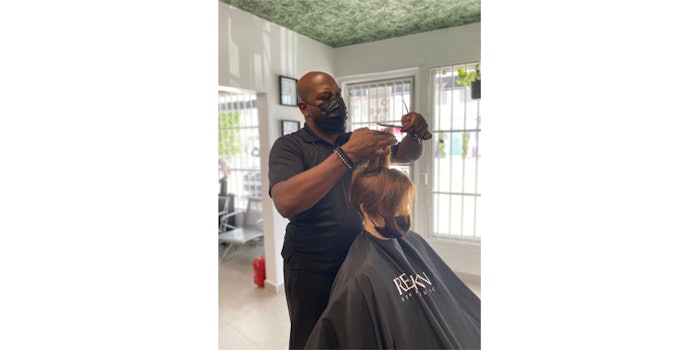 Courtesy of Jorge Perez
Jorge Perez, Redken artist and Sam Villa ambassador, shares his professional cutting technique that will help take your client'
s look to the next level.
Perez uses hybrid cuts—meaning all of the body of the hair is at the crown of the head.
Get the Look:
Create a square section at the crown.

Comb hair up vertically and then tease the entire section until there is a fluffy mass at the base.
Continue to hold the ends of the section and then make a horizontal cut right across the entire section with a Sam Villa Signature Series Dry Cutting Shear 7".
Comb through the section and release–the heaviness is diminished, and volume explodes.
The look can also be achieved using a blending shear. After steps 1 and 2, insert the blending shear into hair—close, open, move up, close, open, move up the length of the hair. If hair is continually cut in the same place, it creates dents that can contribute to breakage, so make sure to vary the cutting line.
"It's fun to see guests' faces when you make that cut; it's dramatic, but you'll see when you gather the section again and comb it out that you can barely see where the cutting line was. It's a great way to remove weight, add lift…and get a little rise out of your guests," says Perez.