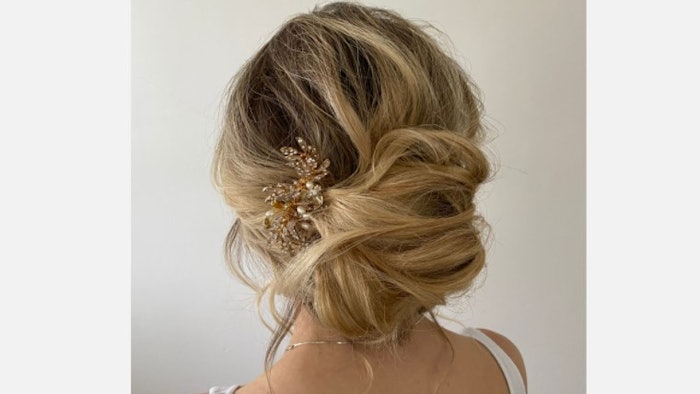 Courtesy of Caralee Pridemore x Sam Villa
Caralee Pridemore, a Sam Villa ambassador, makes special occasion hair look so easy with her style she calls the "Modern Twist."
The "Modern Twist" is similar to a French twist, yet executed differently to add more dimension.
Pridemore owns Sweetly Pinned, a mobile salon company that specializes in bridal hair and updos.
Modern Twist How-To:
Brush hair with a Sam Villa Artist Series Paddle Brush to smooth and maintain shine.
Take 1" sections all over the head and compress with the Sam Villa Signature Series Textur Professional Texturizing Iron to about four fingers down off the part to build the perfect foundation for a strong, lasting updo.
Use a Sam Villa Artist Series 2-in-1 Marcel Iron and Wand to create dimensional curls all over the head, alternating the curl pattern in each section.
Apply Redken Wax Blast and brush out curls using the end of a Sam Villa Signature Series Tail Comb to maintain a frizz-free style and create more dimension on highlighted hair.
After combing through curls, gather hair into a ponytail.
Center the ponytail, pull all hair toward the left and create a low bun. Then, overdirect the hair and pin on the right side.
Take the remaining hair on the left and bring it over the top part of the bun and back toward the right side.
Mist with a texturizing spray and pull random pieces apart to add variation and dimension on the surface. Pin into place.