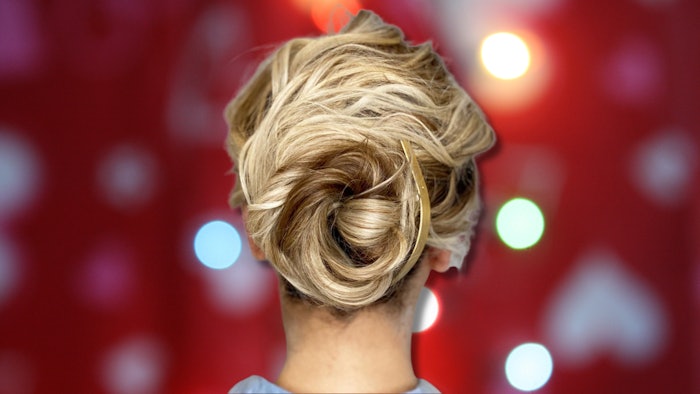 Courtesy of Lindsey Olson
Holiday season is fast approaching, which means it's time to start prepping those holiday hairdos. 
Lindsey Olson (@lindsey.marie.olson), Global Redken Artist and Sam Villa Brand Ambassador, created a gorgeous textured bun that will be the hit of all the holiday parties.
"This is such a great look for anything from a holiday party to a wedding because it can be elevated with a sleek accessory, or pancaked for a more organic vibe," says Olson.
Follow the tutorial below to learn how to style this look for your clients.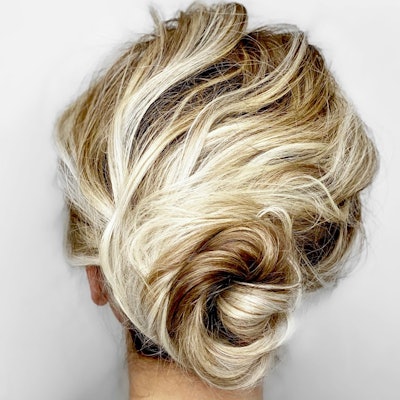 How-To: 
On dry hair, blow dry in volumizing hair spray, using small sections and a paddle brush to maintain control of the hair. It will be sticky and wet to begin: Trust the process, and continue to dry until hair is 100% dry. This gives all the foundation to add texture and control.
Use both a 1" and 1 1/2" iron + wand to create spiral wrapped curls with different sizes. This gives the most effortless curl pattern.
Brush curls out with hands or wide tooth comb.
Separate the front of the hair from back. Leave the front out and down while working on the back.
Create 2 separate off set ponytails at the back of the head. Tease each ponytail with texture spray.
Wrap bottom ponytail around top ponytail. Repeat with top ponytail to create a bun. Secure with hair pins to keep a lose textured finish.
Bring the front of the hair to the back, using hands to separate curls and design a soft texture. Pin the hair into the bun.
Add texturizing hairspray for a shiny topcoat finish and embellish with an accessory of your choice.