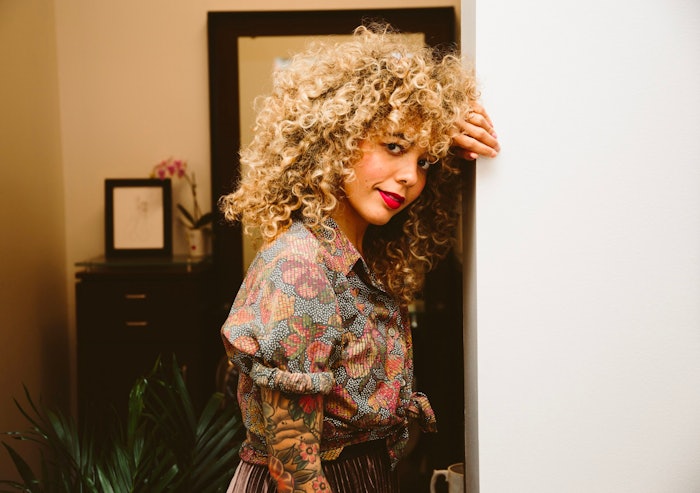 Courtesy of Hairstory
April Kayganich (@_thehalfrican), hairstylist and educator, shares tips for perfecting curly and wavy hair styling, including her recommendations for the best products to use.
1. Hydration is Key:
April emphasizes the importance of keeping your hair hydrated, especially for those with curls. The secret? Using Hair Balm while your hair is soaking wet! This expert advice is a game-changer, as it ensures that your hair is prepped and ready to absorb moisture from hair products effectively. It's like giving your hair a warm, welcoming hug, especially for those with wavy or straight-ish hair who want to enhance their natural waves.
2. The Art of Cocktailing:
If you love achieving a bouncy blowout with a voluminous finish, April has a brilliant solution. She recommends cocktailing her favorite combination of products: Dressed Up and Lift. This dynamic duo ensures that every section of your hair receives an equal amount of product, resulting in a perfectly bouncy blowout. Dressed Up protects hair from hot tools up to 450° and from UV rays. Lift is a heat-activated volumizing spray that provides memory to your hair, making it easy to perk up flat hair whenever you need it. Just take your hands and massage at the roots.
3. Low-Maintenance Volume and Texture:
For those who prefer a more low-maintenance routine without the need for heat styling, April has you covered. She suggests starting with Hair Balm in the shower for curls or slightly damp hair for wavy types. Then, you can achieve volume and texture with Undressed, Hairstory's no-salt sea salt spray - instead ingredients like quinoa and rose water provide that volume and texture. It's a quick and easy way to achieve that effortless, beachy look. Plus, it doubles as a fantastic refresher for those days when you want to breathe new life into your locks without drying them out or leaving a residue feeling.