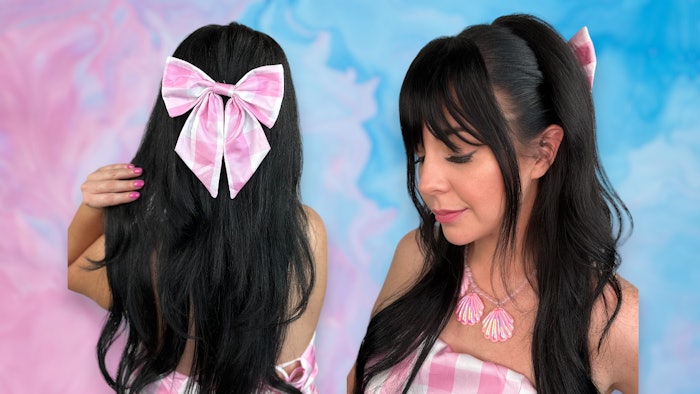 Courtesy of Ellen Devine
It's no surprise that Barbie is going to be a trending Halloween costume this year. 
Of course, a necessary part of any Halloween costume is the hair! Master Stylist at Lunatic Fringe, Ellen Devine (@ellendevinehair) shares a quick Barbie look any stylist can teach a guest for an everyday style or Halloween costume.
Before diving into the tutorial, Devine shares a hair tip for bringing the look to life: "I suggest coating your rubber elastics in a lightweight hair oil, it makes them really easy to remove." 
How-To: 
Take a small circle section at the back of the crown and secure into a low ponytail. Gather the rest of the hair in front from right behind the ear, drawing a diagonal line to the bottom of the previous ponytail. Use a finishing brush to smooth and secure the ponytail. 
Curl the hair left out, including the ponytails. If hair has trouble holding curl, wrap it around the iron to create a nice bounce to the hair. Once curls are fully cooled, brush to smooth using a paddle brush. 
For a little extra Barbie volume, use a texturizing iron on the first two inches of hair at the base. This makes the hair pump up bigger and also holds backcombing better. 
Starting with the bottom ponytail, place two fingers under the base, grab the tail and flip it up through the hair and pull to tighten. Use a tail comb to lightly backcomb the ponytail and smooth. Flip the ponytail up and secure the hair above the elastic with bobby pins to help avoid splitting. Repeat on top ponytail. Set with hairspray to control flyaways. 
In the movie, Barbie has fringe. Add clip-ons if needed. Then, smooth bangs with a professional straightening iron in a "C" motion to get a little bounce and bevel. 
Add pink accessories, polish, dress and voilà, Barbie!