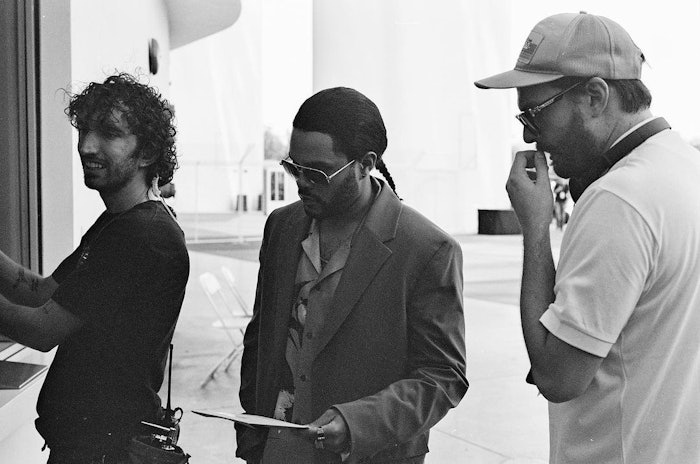 Courtesy of @theweeknd
Since HBO's hit show "The Idol" debuted, #Rattail has blown up on TikTok with over 48M views and counting, which signifies one thing: we're about to enter a new trend era.
Andrew Zumbo, American Crew Brand Ambassador and Stylist, is breaking down the latest men's grooming trend, how "The Idol" influenced this rise in rattails and and how best to achieve The Weeknd's look at home. 
Q: What is a rattail? 
A: A rattail hairstyle is characterized by a strand of hair extending from the back of the head. The hair on the rest of the head is typically shorter or shaved, while the rattail portion is left longer and usually braided or tied with a hair elastic.
Q: Do you see it Rattails becoming a trend? If so, why?
A: Yes, I see it being a trend – due to popular culture and when something is heavily featured on a TV show such as "The Idol" or "The Bear" (with either positive press or negative backlash), and circulated on social media, it's highly likely that it will become popular again. We are seeing trends ebb and flow which is typical in fashion and hair, and right now rejuvenated versions of classic styles are being brought to light like the mullet and now the rat tail. Aside from the obvious rattail styling technique of braiding and tying, an elevated rattail could incorporate color, beads, and other accessories to showcase personality. 
Q: How can you achieve the look? What should you ask your barber if you're looking to grow out your hair for a rattail?
A: To style a rattail, you would section out a piece of hair from the center of the nape down, and keep the left and right sides shorter, which makes the rattail more prominent. If you are growing this out, you want to keep the center piece of the hair longer than the rest of the hair so it's more obvious and highlighted. American Crew Molding Clay has concentrated styling power for a high hold, medium shine finish and touchable shape and texture. On dry hair, massage a dime sized amount in your hands to emulsify then rub the product in the hair for texture. If you're looking for a matte, low shine option, American Crew Fiber is a great option for a pliable hold and also helps thicken, add texture, and increase fullness to the hair. To style the rattail, rub a small amount evenly between palms before working into dry hair.