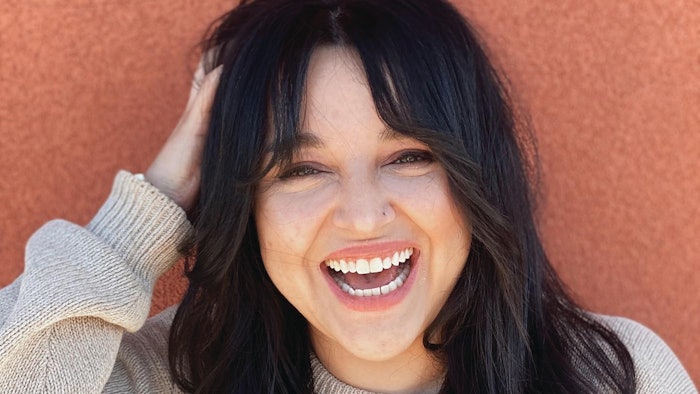 While we don't expect curtain bangs to disappear any time soon, clients looking to differentiate themselves can opt for 2022's buzziest bang trend: bottleneck bangs. Unlike curtain bangs and their effortlessly outgrown appearance, bottleneck bangs intentionally frame the face with uncomplicated style. The bangs' skinny-to-wide silhouette mimics a long-neck bottle and has the uncanny ability to flatter any face shape, regardless of hair type. Sounds like an ideal choice for the lazy days of summer. 
Hairstylist Becky Brown explains the hype surrounding bottleneck bangs, enthusing, "There has been an explosion of bottleneck bangs in 2022, and here's why: They're non-committal. Almost all my clients have contemplated trying bangs over the years, but the commitment can be nerve-wracking. Bottleneck bangs are the best way to dip your client's toe in the water without having to go all the way with a heavy fringe." She breaks down how to achieve her variation on the style, pictured above.
Get the Look:
Step 1: With slightly damp hair, separate out your triangle fringe section. Be sure to check the hairline for cowlicks.
Step 2: Determine how short you'd like the center piece to be—typically somewhere around the brow bone. Comb the center down and cut to the desired length, creating a guide.
Step 3: Take the guide to the right side, marrying the sections together. Overdirect on an angle toward the left side. Cut the "bottleneck" angle with the longest hair laying between the cheekbone and the jawbone.
Step 4: Repeat with the opposite side.
Step 5: Lessen weight and add texture as needed.
Step 6: Blow out the bangs and let your client leave as a bottleneck babe!
For all 15 bottleneck bangs looks, check out Beauty Launchpad's June digital magazine.