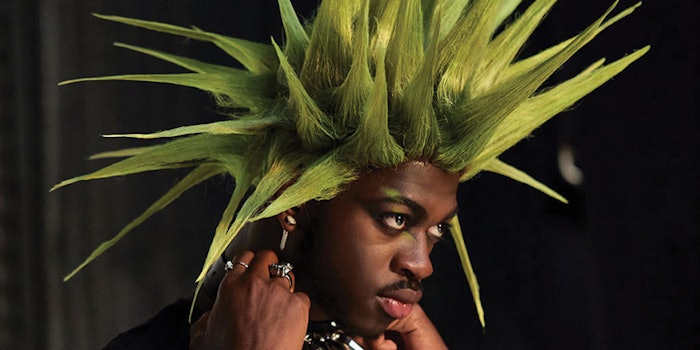 Fashion and beauty are often inspired by social unrest—take, for instance, the underground punk scene of the '70s. "At that time, there were venues that weren't mainstream, and they were the only places that punk and queer communities were allowed to have their events—often in the same night, in the same room," says designer Christian Cowan. For his Spring/Summer 2021 presentation, Cowan paid homage to these strange bedfellows, asking Bumble and bumble hair lead Evanie Frausto to reimagine "punk-meets-queer" into a flamboyant parade of exaggerated glam-punk hairstyles doused in glitter and neon shades. The perfect people to don these outré hairstyles in Cowan's presentation: prominent Black Lives Matter activists, models who fight for change, and the collection's collaborator, out Black rapper Lil Nas X.
For Frausto, this loud hair aesthetic has its place in 2021. "At face value, you see a lot of '70s punk glamour in this collection, but the foundation is a lot deeper than that," he says. "We're living through a historical movement, and people are no longer being silenced. They're speaking up and being loud—and this hair is speaking the same language."
Such spirited styles include wigs dyed in shocking neon shades by Bumble and bumble Downtown colorist Ricardo Santiago, and shaped into sky-high spikes, which Frausto first backcombed using Bumble and bumble Thickening Dryspun Texture Spray. Then, he blasted hair with copious amounts of Strong Finish and solidified spike height via a blowdryer. He molded each spike carefully using a cocktail of Strong Finish and Holding Spray, fine-tuning the sharp edges with a flat iron. "There's nothing subtle—the looks are bold and loud and in your face," says Frausto.
Other models found their hair shaped into more bombastic versions of their natural state, each injected with a hint of punk—whether through texture that was a little frazzled or braids that swirled into an attention-grabbing crown. "The vital part was to make sure all talent had their moment to shine and felt empowered in their own skin," says Frausto.
Check out Beauty Launchpad's June digital magazine for all the looks.