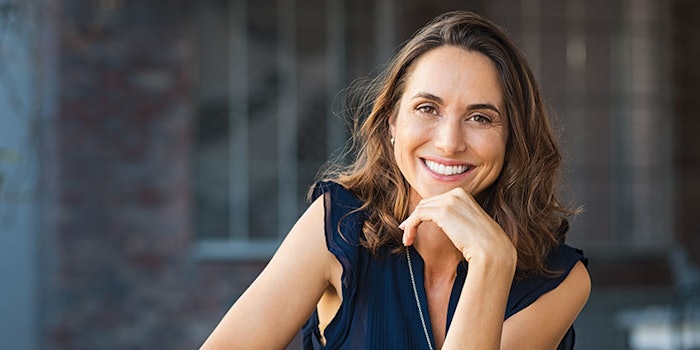 The desire for more youthful looks is no longer the domain of "women of a certain age"—it's a bona fide universal concern across generations and genders. But how can clients help halt the appearance of Father Time? Here, we round up the best practices and products for keeping the aging process at bay on hair, skin, lashes and nails.
The Strands of Time
Jessica Scott Santo (@jessicascotthair), owner of Jessica Scott Hair in Sciota, Pennsylvania, offers these nine tips for stylists to share withtheir clients to help them defy age-related stresses on tresses:
1. Schedule trims every six to eight weeks to help promote healthy hair growth—and minimize frizz and the appearance of thinning.
2. Battle aging's effects (think drier, thinner, more brittle strands) by shunning aggressive styling techniques and harsh coloring services or treatments; wearing hair down to prevent breakage; and avoiding too-hot showers.
3. Wash less often—it removes the hair's naturally hydrating oils and leads to dryness.
4. Use a gentle touch when brushing and drying wet hair.
5. Replace strong, drying hairsprays with lighter-hold products.
6. If using heavier products, clarify hair once or twice per week to remove residue.
7. Commit to conditioning treatments at home once every other week—especially during summer and winter months, or after a coloring service.
8. Enrich your diet with lean protein and plenty of water. To promote growth, try supplements with vitamins C, E, B3 and biotin.
9. If hair is thinning at a concerning rate, see a doctor—certain conditions and medications can contribute to hair loss.
Alterna Caviar Anti-Aging Clinical Densifying Leave-in Root Treatment is infused with signature caviar extract and patented Red Clover Densifying Complex to lend the appearance of fuller locks. @alternahaircare
BosleyMD BosDefense Nourishing Shampoo defends against thinning hair with anti-aging ingredients and DHT inhibitors. @bosleymd
Eufora Thickening Conditioning Treatment delivers fuller, thicker-looking hair with a mix of vitamins, botanically derived oils and proprietary ProAmino Cell Complex. @euforainternational
Hush & Hush DeeplyRooted supplements contain exclusive Hair Health Complex and Polypeptide Complex to optimize hair health and promote thickness. @hush_and_hush
Nioxin Night Density Rescue antioxidant hair serum refreshes the scalp and promotes hair density while neutralizing free radicals. @nioxin
Oribe Silverati Illuminating Treatment Masque intensely moisturizes dry, aging hair while restoring strength and elasticity. @oribepro
Skin Sense
Cynthia Malcom Taylor (@edgareneegroup), founder of Edgar Renee Aesthetic Education and Consulting Group in Columbus, Ohio, reveals her best practices for keeping skin youthful through the years:
1. Minimize sugar intake—excess consumption causes loss of skin elasticity and hyperpigmentation.
2. Keep anti-aging spa services on the rotation: acid or enzyme peels, microdermabrasion, dermaplaning, antioxidant facials, high-frequency or microcurrent treatments, light therapy and contrast hydrotherapy.
3. At home, reach for products with ingredients like AHAs and BHAs, vitamin C, hyaluronic acid, beta-glucan, Retin-A, and gold and copper nanoparticles.
Bio-Therapeutic Platinum Peptide Serum features advanced peptide technology for skin support and repair, plus anti-inflammatory benefits. @biotherapeutic
Repêchage Vita Cura Gold Collection B3 Serum Complex smoothes, lifts, firms and minimizes the appearance of pores. @repechage
Lusher Lashes
Tussanee Luebbers (@lashcastpodast), a lash stylist, trainer, speaker and podcaster for LashCast in Pasadena, California, shares simple steps to keep those peepers poppin':
1. Perform a lid wash every day, especially if you wear eye makeup or eyelash extensions. Remove makeup with a no-rinse, fragrance- and dye-free micellar water on cotton pads or swabs. Follow with a foaming lid cleanser or baby shampoo, cleaning the lids and margins thoroughly.
2. For a few minutes daily, apply warm, wet compresses on the eyes to keep tear film flowing and skin soft.
3. Apply sunscreen on your eyelids—an area that most people miss.
4. Use lash growth serums to help keep lashes in the anagen growth phase.
GrandeLASH-MD Lash Enhancing Serum blends vitamins, antioxidants and amino acids to promote conditioned, longer, thicker-looking lashes. @grandecosmetics
Tips 'n' Toes
Hands and feet need love, too! Promote healthier hands, nails and cuticles with these anti-aging musts from Julie Kandalec (@julieknailsnyc), a manicurist and nail artist in Brooklyn, New York:
1. Moisture adds elasticity. Look for hand creams with collagen as well as vitamin C, which helps to fade age spots.
2. Sunscreen is a nonnegotiable—remember, the hands are a clear giveaway of a person's real age.
3. Look for cuticle oils with ultra-moisturizing ingredients, such as argan and neem oils. Apply at least twice daily— on the cuticles and under the free edges.
Cuccio Naturalé Pomegranate & Fig Cuticle Revitalizing Oil softens, smoothes and moisturizes cuticles via vitamin E. @cucciocolour