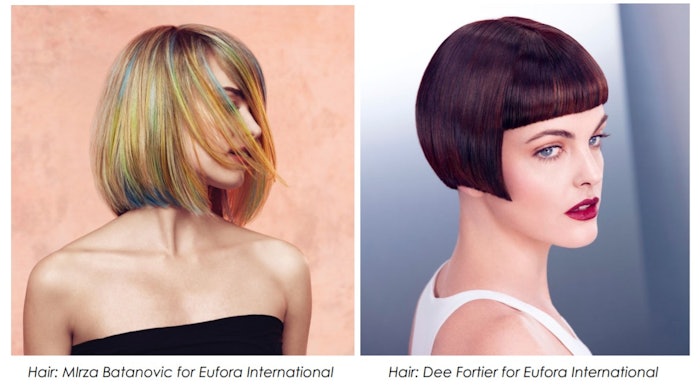 It has been 100 years since flappers ruled the 1920s with their iconic French bob haircuts, yet the style still feels as fresh and timeless as it did a century ago.
According to Eufora, bobs dominated the Fall 2020 runways, including Bottega Veneta, Chloe, Marc Jacobs, and Hermès. Celebrities like Taylor Lashae, Lucy Boynton, Zendaya, Olivia Wilde and Charlize Theron have all been spotted with the chic cut.
Eufora "Bob Masters," U.S. style director, Mirza Batanonvic, and artistic director, Dee Fortier, shared their three must-dos to create the timeless hair trend.
3 Must-Dos for Perfecting the Bob
Bobs need layers of texture. Batanonvic and Fortier suggest spraying the hair generously with Eufora Full Effect dry texturizing spray to increase fullness.
When using a hot tool, the pair protects a client's hair by starting with Eufora Retain heat styler, which also ensures a light, long-lasting hold.
Eufora Gloss dry shine spray is recommended to deliver a shiny finish for the sleekest bobs without the weight of traditional shine products.
According to the company, The Eufora Advanced Training Academy offers several precision-cutting courses, including the Eufora proprietary cutting method, VIA - Versatile, Innovative, Architectural. VIA courses break down the bob (and other precision cuts too), helping stylists to understand the fundamentals while beginning to master advanced techniques that allow creative cutters to tailor designs specific to hair type and texture.