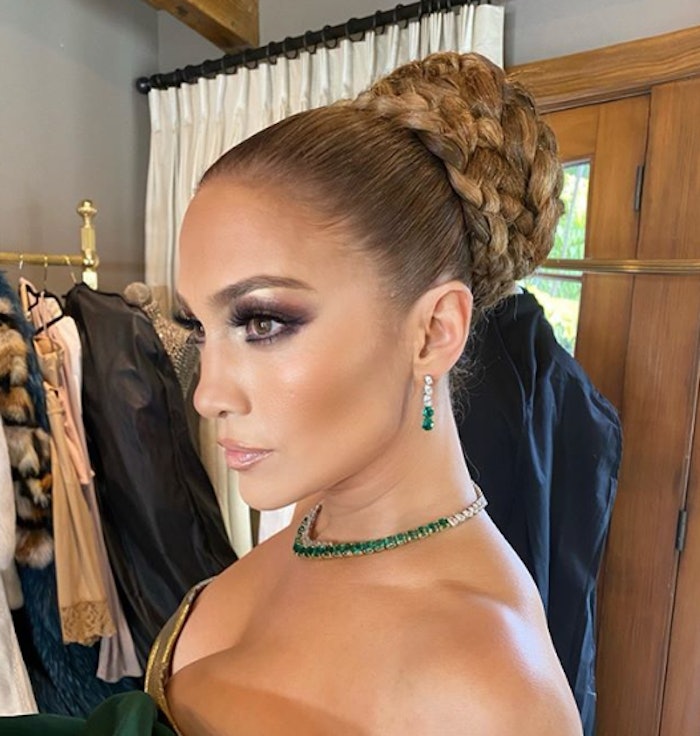 Stars shined at the 2020 Golden Globes with a little help from their talented beauty teams. We've got all the behind-the-scenes details straight from the stylists who made it all happen. Scroll down to find out how to recreate these looks hot off the red carpet!
 
Chris Appleton Creates Chic Updo for Jennifer Lopez
Chris Appleton (@chrisappleton1) gave his followers a behind-the-scenes peek at how he styled JLo's elegant crown braid for the 2020 Golden Globes red carpet. Appleton explains that the style was inspired by the timeless Grace Kelly, "but the braid made it more modern." And we agree that it definitely gave her a "queen of the night vibe." 
1. Dry hair with the Dyson Supersonic Hair Dryer Professional Edition
2. Style using ColorWow Hair Dream Coat Supernatural Spray, Cult Favorite Firm + Flexible Hairspray and Pop& Lock High Gloss Shellac. 
Ashley Streicher designs Rachel Brosnahan's Glam Hairstyle
Celebrity hairstylist Ashley Streicher (@streicherhair) created a modern glam hairstyle to complement Rachel Brosnahan's bold, sleek sequin dress for the 2020 Golden Globes with the help of essentials from Goldwell and VARIS. Here's how you can recreate the look: 

1. Apply Goldwell StyleSign Curly Twist Hydrating Curl Gel from midlength to the ends on wet hair to prime hair while providing deep hydration.
2. Prep hair with  Goldwell Kerasilk Repower Volume Blow Dry Spray, focusing specifically on the roots.
3. Use the VARIS Dryer and VARIS Medium Round Nylon Brush to create a smooth, shiny look with a bit of volume. Create a deep side part while drying the hair down and away from the face to soften the hair line. 
4. To protect the hair and provide a bit of memory before curling, apply Goldwell Kerasilk Style Forming Shape Spray. 
5. After curling the hair with the VARIS 1" Curling Iron, brush out  curls to give them a softer, glam look. 
6. Lock the look into place with  Goldwell Kerasilk Style Fixing Effect Hairspray, adding a bit of texture and shine. 
7. Finish with Goldwell Kerasilk Color Gentle Dry Shampoo across the bangs to soak up any oils from the skin that could cause separation along the front.
Richard Marin creates Renée Zellweger's Winning Updo
Oribe celebrity stylist Richard Marin created a loose updo for Renée Zellweger, winner of Best Performance by an Actress in a Motion Picture - Drama for Judy. The beautiful classic style kept the attention on her figure-framing baby blue gown.
1. Prep damp hair with Volumista Mist for Volume.
2. Blow dry hair straight, focusing on volume at the roots.
3. Apply Swept Up Volume Powder Spray at the roots for extra volume.
4. Pull hair back into a loose updo at the nape of the neck. Pull out front pieces.
5. Free Styler Working Hair Spray.
Sonia Lee styles Red Carpet Look for Taron Egerton
Oribe Celebrity Groomer Sonia Lee created a classic red carpet look for Taron Egerton, winner of Best Performance by an Actor in a Motion Picture - Musical or Comedy for Rocketman. Sonia exclusively used Oribe products for Taron's timeless look. 
1. Apply Balmessence Lip Treatment to lips to hydrate.
2. Run a small amount of Rough Luxury Molding Wax through hair and shape into desired style.
3. Finish off the look with Flash Form Finishing Spray Wax for texture and hold.
Kerrie Urban Crafts Voluminous Hairstyle for Nicholas Braun
Oribe celebrity groomer Kerrie Urban used Oribe products exclusively to create a style full of body for Nicholas Braun, winner of Best TV Drama for Succession. This clean-cut style was the perfect complement to his tailored navy suit.
1. Apply Grandiose Hair Plumping Mousse on towel-dried hair.
2. Blow dry hair up and back on top directing it to one side. Smooth the hair down on the sides and back.
3. Run a small amount of Rough Luxury Molding Wax through hair for hold and definition.
4. Set the look with Free Styler Working Hair Spray.
Christian Marc Channels Vintage Glam for Marin Hinkle
Oribe celebrity stylist Christian Marc enhanced Marin Hinkle's long locks with side-swept tousled textured waves. Christian's chic yet effortless style complemented the actress' vintage-inspired gown.
1. Apply Mystify Restyling Spray throughout hair.
2. Wave hair with a ½-inch curling iron in sections.
3. Add texture to each section after curling by spraying a combination of Après Beach Wave and Shine Spray and Dry Texturizing Spray.
4. Finish the look with AirStyle Flexible Finish Cream for added hold and texture.
Kristen Shaw Delivers Classic Waves for Emma Tillinger Koskoff
Oribe celebrity stylist Kristen Shaw was inspired by old-Hollywood glamour for Emma Tillinger Koskoff's red carpet look. Shaw styled Tillinger Koskoff, who produced both The Irishman and Joker, with perfectly structured, classic waves.
1. Apply Foundation Mist onto damp hair.
2. Run Grandiose Hair Plumping Mousse through the hair from roots to ends with a fine-tooth comb.
3. Blow dry the hair away from the face with a flat brush.
4. Once dry, curl hair in 2-inch sections away from the face with a ¾-inch curling iron.
5. Spray each curl individually with Superfine Hair Spray and pin to set.
6. Once cool, remove all pins.
7. Spray Imperméable Anti-Humidity Spray onto a flat brush and brush through the hair to set waves in place.
8. Apply Silverati Illuminating Pomade (launching February 2020) around hair line for an extra boost of shine.
9. Set the look with Superfine Hair Spray.
Jayson Medina Coiffs Elegant Ponytail for Tanya Rad
Oribe Celebrity Stylist Jayson Medina created a sleek style to complete E! Red Carpet Host Tanya Rad's elegant look. The simple but stunning ponytail was the perfect complement to Tanya's gown.
1. Prep hair with Foundation Mist and blow dry hair straight with a flat brush. 
2. Apply Soft Lacquer Heat Styling Spray for added shine and thermal protection.
3. Flat iron the hair in small sections to create a straight, sleek look.
4. Part hair down the middle and secure the ponytail at the nape of the neck with a hooked elastic.
5. Take a piece of hair from the bottom of the ponytail and wrap it around the base a few times. Secure with bobby pins.
6. Finish by spraying Superfine Hair Spray on a toothbrush to smooth flyaways. 
Andrea Pezzillo Grooms Song Kang Ho 
Oribe Celebrity Stylist Andrea Pezzillo created a clean-cut style for Song Kang Ho, winner of Best Foreign Language Film for Parasite. Andrea exclusively used Oribe products to give the style body, volume and hold.
1. Prep hair with Foundation Mist.
2. Spray Maximista Thickening Spray directly at the root.
3. Blow dry hair back with a round brush for volume.
4. Apply Fiber Groom with hands and shape the hair into desired style.
5. Set the look with Free Styler Working Hair Spray.