How many of you have clients that say they want full curls but not too much volume? Or beach waves that are waves, but not curls? Or when their hair is curled the curls end up hugging each other and morph into five giant curls that end up looking frizzy? I myself, have been that client and I'm always searching for the right combination of curls to volume!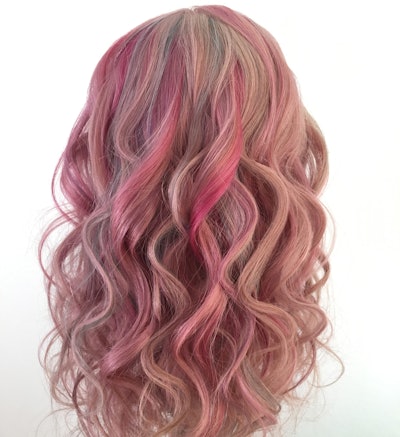 Luckily, we've found it, thanks to a technique we like to call "Combo Curls." By mixing various textures, curls stay defined and separated with the perfect amount of volume.  It basically requires sectioning the head into horizontal partings with vertical sections and rotating curl patterns on each section. This not only creates interesting texture, but the curls tend to stay defined and separated which creates more volume.
Combo Curls
Start at the nape with a horizontal part about an inch thick. Spray Redken Iron Shape 11 to protect and repair hair from thermal styling. Comb through to evenly distribute. Product is essential when crafting curls, it you don't use it, hair will not hold the texture. And you know what Sam says, "Product is not an option, it's a necessity!"
For the first layer of curls, detach the handle from a Sam Villa Artist Series 2-in-1 Marcel Curling Iron and Wand 1" and wrap an inch-wide vertical section around the barrel trying not to overlap the hair. Repeat the rest of the section.

For the next layer, move up the head about an inch taking another horizontal parting. Apply product and comb through. Take a vertical section about an inch wide. Use the Sam Villa Signature Series Sleeker Professional Straightening Iron to create a Flat or S wave by pushing hair between the plates in an "S" pattern while opening and closing the iron to compress hair while it stays flat. Repeat the rest of the section.

Continue rotating the curl techniques each section until the entire head is curled.
Leave the fringe area for last so you can place the bend of the curls according to face shape and fall. 
This technique creates the perfect combination of curls – the round curls give it just enough volume and the flat waves prevent it from being too uniform. Mixing texture and curl together is a really easy way to add interest to any style and keep guests on trend for the season.  The look you're going for is not as disheveled as a wave, but not as polished as a blowout.  It's a mix of textures that create a modern dimensional finish.  And because it's not precise, it's the perfect technique to share with guests – anyone can do it!
I also like to share these tips with my guests that use irons:
Tension- Keep your tension pretty tight when using a wand to create a curl that is the same size from root to tip. 
No Overlapping- Try not to overlap the hair so you have even heat distribution throughout the curl. 
Let it Cool- If the hair type doesn't hold curl very well, once you unwrap it from the wand, keep it coiled up in your hand for a few seconds to cool and lock in the curl patter.  When creating an S shape curl, you can use a Sam Villa Dry Sectioning Clip to hold the S shape while it cools.
Your passion is your path!
Marisa Villa, Sam Villa Ambassador