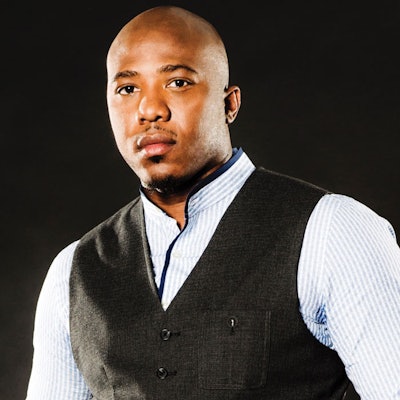 "It's something old, something new, something borrowed and something 'true,'" says Trevelle Baker, Esquire Barber, of this look from the Urban Block collection. Baker explains that the haircut is influenced not only by the high-top fades popular in the '80s but also by hairstyles seen in the '50s and '60s: the pompadour and the conk—a smoothed and relaxed hairstyle created with lye, potatoes and eggs once popular among African-American men. "For a true modern look, I lowered the fade by extending the weight of the blend and reset the direction of the high-top by keeping it lower in the crown and elevating the length toward the front to highlight the conk and pomp look," explains Baker. "It's a great haircut for man at his best."
RELATED: Whitney VerMeer's Hot Look for Cool Weather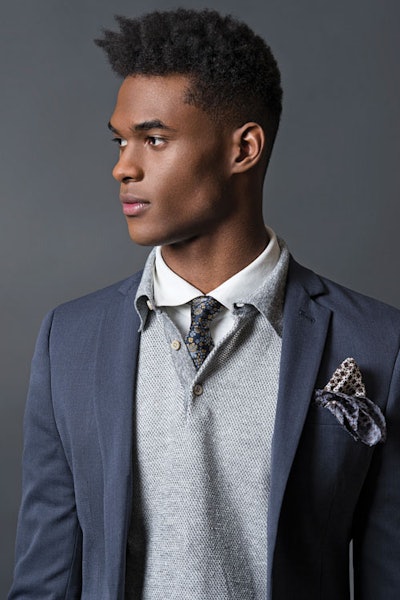 Find the hair's weight line to determine what needs to be removed. Then, staying parallel to the parietal ridge, use the Esquire Classic Professional Clipper with the #2 guard to clipper cut sides and nape.
Using the #1 guard, switch blade lever to 50%. Invert the clipper and cut following the natural curve of the head. At the occipital bone, begin reverse blending from long to short to avoid harsh lines.
RELATED: Top Barbers Name 2019's Ones to Watch
Using the #0 guard with the lever at zero, cut the sideburns and hair outline. Gradually move the lever 30% to 50% to create a seamless transition.
For the top of the hair, hold the clipper vertically and use a clipper-over-comb technique, cutting in a C-shaped scooping motion to connect sides. When blending, remember to comb while getting rid of weight lines.
Determine the apex and cut the top layers even and square, starting at the crown and working toward the fringe. Holding the clipper at a 45-degree angle, connect the sides and top while keeping fringe natural. Crosscheck the square shape by combing to remove weight lines.
Clean up the hairline using the Esquire 5 Piece Trimmer Set. Use Esquire Defining Paste to mold and define, and finish with a spritz of Esquire Grooming Spray to lock in style.
This story first appeared in the Winter issue of MAN magazine. To receive the magazine, click here to subscribe.
[Images: Hair: Travelle Baker; Photography: Richard Monsieurs; Wardrobe: Jeroen Kamphorst; Makeup: Milou Den Oudenaarde]