From Jennifer Lopez's flirty pony to Constance Wu's dewy look, help clients kick off the New Year by putting their best beauty forward.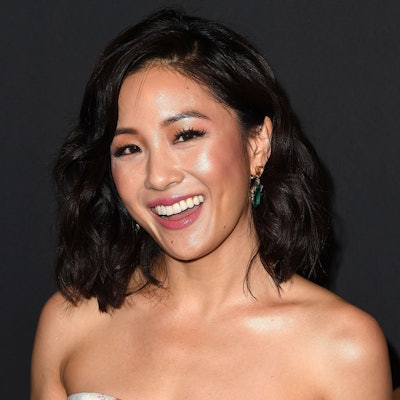 Makeup recreated by Cindy Paula-Rodriguez, global pro artist and friend of Grande Cosmetics
Prep the skin by applying a small amount of Refineé Daily Defense Cream SPF 30* to the face to create a dewy canvas.
Apply eye cream under eyes and on the ocular bone.
Working from the center of the face and moving outward, blend a light- to medium-coverage foundation to the entire face.
Next, apply a light- to medium-coverage concealer over any areas needing extra coverage.
With a taupe contour shade, contour the hollows of the cheeks, temples, hairline and underneath the jawbone.
Spotlight cheekbones with a shimmery, golden-beige highlighting powder.
Make cheeks pop by applying blush in peachy bronze to the apples, sweeping upward.
Fill in brows and set in place with Grande Cosmetics GrandeBrow- Fill*.
Sweep the same peachy bronze blush used on cheeks over the entire lower eyelid.
Use a touch of neutral matte warm shadow on inner and outer creases of the eyes to create a halo effect.
Precisely line the upper eyelid.
Prep and thicken lashes with the Grande Cosmetics GrandePrimer*. Add length and volume by applying mascara to top lashes. Lightly coat bottom lashes with Jane Iredale Longest Lash*.
Add a pop of glossy lip color.
Finish the look by patting the t-zone with a colorless translucent powder.
RELATED: How to Bring the Looks from the Golden Globes Red Carpet to Your Salon
Style recreated by Dayna Gamba, BaBylissPRO artist
Remove any excess bulk starting from the nape of the neck up to the parietal ridge.
Create a horseshoe section on top starting at the crown.
Use a #3 guard and adjust the blade to a closed position. Ride the BaBylissPRO GoldFX Clipper* up to the parietal ridge (where the head rounds) to remove bulk.
Switch to #2 guard with the clipper in the open position, and clip the perimeter of the neck using a "C" scooping technique.
Work around the hairline with a trimmer, making sure to create a soft outline and a clean appearance.
For the top section, cut hair with Olivia Garden SilkCutPRO, working in vertical sections and being sure to maintain the longer length in front.
Towel-dry hair.
Apply a soft curl cream like ECRU New York Curl Perfect Defining Styling Potion. Spread the cream evenly to separate curls.
Diffuse hair using a cup diffuser with the BaBylissPRo SteelFX. Keep the setting on low heat and diffuse until curls are 75-percent dry.
RELATED: Look of the Moment - Emma Stone and Shawn Mendes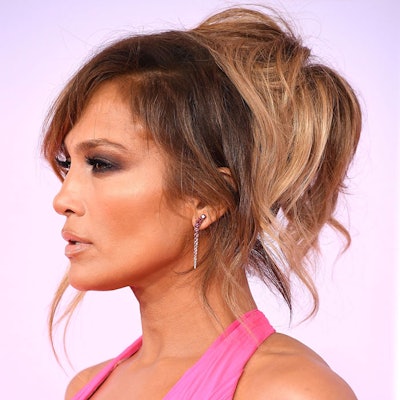 Style created by Chad Wood, celebrity stylist
Prep hair while protecting it from heat with a few spritzes of Redken Iron Shape 11 from roots to ends.
Use a small pump of Redken Satinwear 04 on ends to lend polish and add protection.
Blow-dry with a round brush and ghd Air Hairdryer to smooth strands and increase lift at the roots.
Follow with the ghd Platinum+ Styler to clean up hair around the face and on the ends.
 Lightly spritz Redken Triple Dry 15 Dry Texture Finishing Spray from roots through mid-shafts for texture and slight hold.
Create stronger waves throughout by using ghd Curve Classic Curl Iron 1".
Once cooled, pull hair into a high ponytail and tease to the desired shape. Pin as you go to create a messy knot.
Pull out pieces to frame the face, and tousle with your fingertips.
Finish with a strong-hold hairspray, like Redken Triple Take 32, to set the style.
*Asterisks indicate products not used by stylist.
–by Jasmine Brown and Merryl Simon
This story first appeared in the January issue of Beauty Launchpad magazine. To receive the magazine, click here to subscribe.
[Images: Getty Images]