While clients often operate with a less-is-more attitude when it comes to their hairstyles, the holidays—or rather, holiday parties—are a time when they think big. Whether fine strands are given an extra dose of voluminous oomph or curly hair is swept into an updo, the holiday season is when stylists can get creative and grant their clients star-worthy looks. And what better source of inspo to achieve celeb-inspired locks than the red carpet? Here, we share top hairdos worn at one of Tinseltown's biggest nights: the Emmys. Not only that, but we've tapped the stylists behind the looks to share their how-tos. Hair's to an haute holiday, indeed.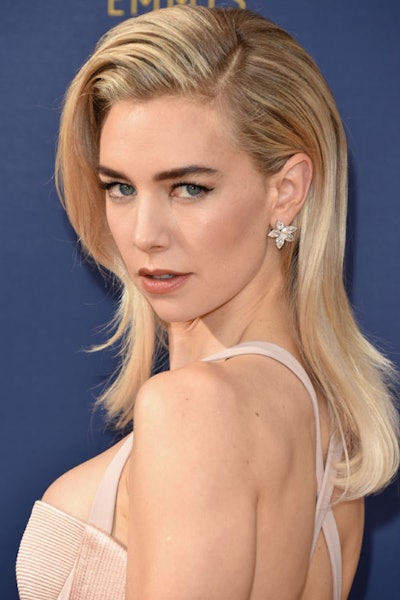 Fashionable Vixen
"Vanessa Kirby's Emmys hairstyle was greatly influenced by her Tom Ford pale pink gown," relates Moroccanoil celebrity hairstylist Bryce Scarlett. "Her silk column dress was elegant and sleek, and we wanted to make sure that her hair felt very sophisticated and polished as well."
Get the Look
Step 1: On damp hair, use a dime- size amount of Moroccanoil Treatment Light to provide the perfect foundation for styling.
Step 2: Apply Moroccanoil Volumizing Mousse at the roots and Moroccanoil Blow-Dry Concentrate at the ends to create a smooth, polished blowout.
Step 3: Blow-dry hair using the Moroccanoil Professional Ceramic Hair Dryer. For maximum volume, use the Moroccanoil 45 MM Boar Bristle Round Brush, wrapping the hair around the head, and blow-dry in each direction to give a sleek blow-out. Then, create a deep side part.
Step 4: Take hair into big sections and loosely curl strands with a 1 1⁄4-inch curling iron to create subtle waves and body.
Step 5: Mist on Moroccanoil Dry Texture Spray throughout hair while back-combing the roots to impart sculpted, voluminous hold.
Step 6: Finish the look by administering Moroccanoil Luminous Hairspray Medium for grip.
TIP! You can enhance volume via hair wefts. Seeking to tap one of the taped variety? Employ GL Tapes Plus by Great Lengths. Want a piece with a clip-in attachment? Try Top Secret Haircessory Topper.
RELATED: Look of the Moment - Emma Stone and Shawn Mendes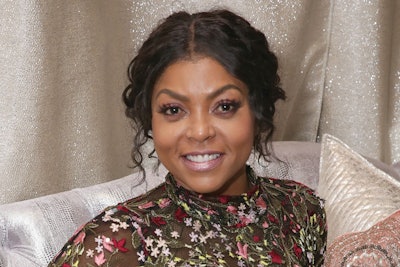 Ethereal Beauty
"I wanted to create a whimsical fairytale-esque look for Taraji P. Henson," enthuses Tym Wallace for FHI Heat. "The dress complements the hair look with its beautiful flower details."
Get the Look
Step 1: Prep hair with Surface Bassu Hydrating Shampoo and Conditioner, then administer ColorProof Color Care Authority SuperPlump Whipped Bodifying Mousse prior to styling.
Step 2: Use the FHI Heat Platform Nano Salon Pro 2000 hairdryer to diffuse and set natural curls.
Step 3: Wrap random sections of hair around the FHI Heat Platform 3⁄4-inch curling iron to define spirals.
Step 4: Finish the style with a low messy braid, accentuating the texture and creating some face-framing tendrils.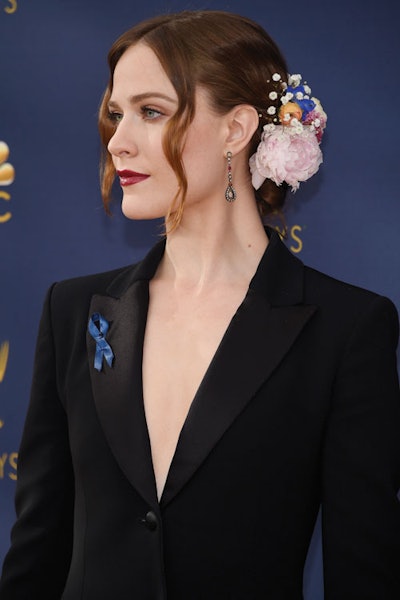 Renaissance Woman
"Evan Rachel Wood's dark suit, perfect skin and bold lip inspired this soft, twisted chignon decorated with fresh flowers," says John D for ghd. "I wanted her to walk down the red carpet looking like a gorgeous Renaissance painting."
RELATED: Celebrity Stylist Vernon Francois on the Inspiration for Amandla Stenberg's Top Looks
Get the Look
Step 1: Prep clean, damp hair using Alterna Caviar Anti-Aging Restructuring Bond Repair Leave-In Treatment Mousse. Then, use the ghd Ceramic Vented Radial Brush Size 3 to build softness and volume.
Step 2: Section hair behind the ear on both sides, leaving the front section out. Use the ghd Curve Classic Curl Iron to create S-shaped finger waves and clip into place to allow the set to cool.
Step 3: For the remaining hair in back, use the ghd Platinum+ Styler to create soft waves. (Note: John D created the waves to build shape so that when manipulating the updo the hair falls into itself, making it simpler to execute the final shape.)
Step 4: Pin the hair at the back of the head to create a foundation for the twisted chignon, and continue the style by twisting the hair and pinning it into place.
Step 5: Remove the clips at the front to frame the face, and pull back the hair to blend it into an updo.
Step 6: Incorporate seasonal fresh flowers into strands for a Renaissance feel. A final spritz of Keratherapy Perfect Hold Hairspray locks in the touchable style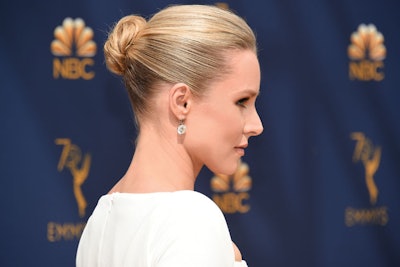 Sleek Sophisticate
"Sometimes the simplest looks take the most prep work. For Kristen Bell's look, we were inspired by Carolyn Bessette-Kennedy and her simple elegance," explains Christine Symonds for Biolage (@biolage). "We wanted to keep the hair clean and minimal, but had to make sure it had the right shape and foundation."
RELATED: Celebrity Colorists Share their Most In-Demand Formulas
Get the Look
Step 1: To maintain a straight (not greasy) look, pre-prep hair with Biolage Styling Whipped Volume Mousse at the roots and Biolage Styling Blowdry Glotion at the ends.
Step 2: Blow-out hair with the Hot Tools Taifun Turbo Ionic Dryer and the WetBrush Pro Tension Shine Blowou, setting hair away from the face to make sure it's smooth when pulled back.
Step 3: Pin away a 4-inch-wide and 2-inch-deep section at the top of the forehead.
Step 4: Pull back the remainder of the hair into a taught ponytail with the Olivia Garden Ceramic + Ion Supreme Boar Bristle Brush at ear level and secure with a bungee.
Step 5: Mist on Biolage Styling Complete C​ontrol Hairspray to make sure the sides and ponytail stay in place.
Step 6: Use the Denman Professional Comb to gently comb back the section and incorporate it in the ponytail. Leave slight volume on top so the style won't look overly slicked to the head.
Step 7: Wrap the ponytail into a bun, securing with bobby pins. Leave ends out for an undone effect or secure them in for a modern, clean look.
Step 8: Administer a veil of Biolage Styling Freeze Fix Hairspray to secure the style.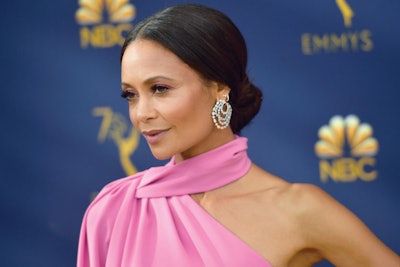 Classic Queen
Inspired by the idea of timeless glamour, Sheridan Ward for Oribe (@oribe) created a sleek, low chignon on Thandie Newton by blending classic decadence with a generous splash of modernity.
RELATED: Nikki Lee Dishes on Her Top Shades for Actress Emma Roberts
Get the Look
Step 1: Apply three to five drops of any Oribe Power Drops Booster to damp hair from mid-lengths to ends.
Step 2: Take a small amount of Oribe Gel Sérum and apply throughout the hair in sections. Blow- dry smooth with the Gamma + Italia Aria Hairdryer.
Step 3: Run Oribe Gold Lust Nourishing Hair Oil through each section, and flat-iron with the CHI Lava 1" Hairstyling Iron to achieve mirror-like shine.
Step 4: Pump up the volume with a blast of Oribe Dry Texturizing Spray all over tresses.
Step 5: Divide hair into a middle part, then create a sleek low ponytail. Twist into a chignon and secure.
Step 6: Finish with Oribe Shine Light Reflecting Spray and a gentle spritz of Oribe Superfine Hair Spray.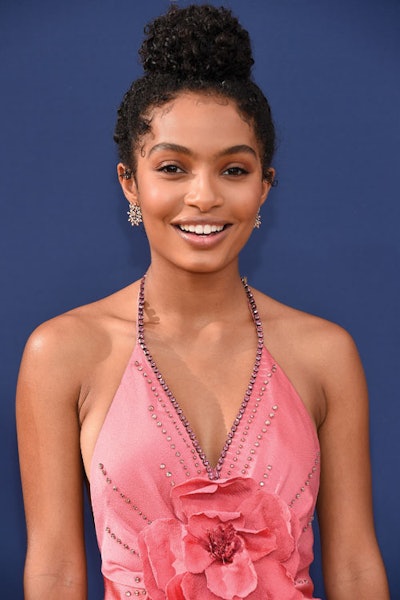 Flirty Girl
"My inspiration was the delicate, romantic style of Yara Shahidi's gown," notes Nai'vasha Johnson for Kenra Professional. "I wanted to keep Yara's natural curls intact while playing up the shape of her hair to accentuate the details of her dress."
Get the Look
Step 1: Saturate strands with Kenra Platinum Luxe One Leave-In and brush thoroughly with a Bass Brushes Green Brush Medium Oval.
Step 2: Gently brush hair into the desired ponytail placement and secure with a hair tie.
Step 3: Take a palmful of Kenra Curl Glaze Mousse 13 and apply around the base of the hair to promote natural texture while minimizing flyaways.
Step 4: Use a small amount of Kenra Platinum Hydro Gel 13 on the ponytail and brush to define curls.
Step 5: Wrap hair into a knot and secure with bobby pins.
Step 6: Lightly apply Kenra Platinum Revive Oil and Kenra Platinum Finishing Spray 26 to complete the look.
[Images: Getty Images]