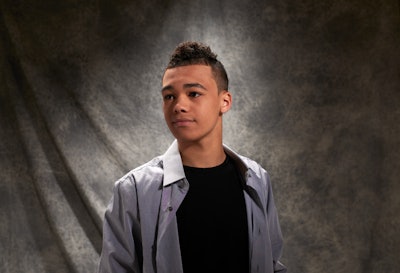 The Andis Company has officially announced their third installment in their educational clipper cutting repertoire, the Clipper Cutting 301: A Guide for Cutting Highly-Textured Hair.
The guide focuses on techniques unique to textured hair. Separated into three sections: Understanding Hair Types and Textures, Fades and Custom Styles, the guide provides lessons that will help develop an understanding of the Andis cutting tools as well as, cover everything from curl pattern and the impact of porosity.
Andis Company has given us a sneak peek into the new guide that will show you how to create a mohawk fade.
How To:
Using an Andis fade blade adjustable clipper with the blade closed and #1 attachment comb, start at the right temple and cut upwards towards the parietal ridge.
Now, open the blade and cut upwards at the back of the head.
Next, remove the attachment comb and cut clipper-over-comb working up the right side of the head to create the mohawk shape. Repeat steps 1 & 3 on the opposite side of the head.
Switch to your Andis T-blade trimmer and define the perimeter.
Line up the front hairline by starting in the center and working to each corner, checking for balance.
Trim along the temples and enhance the curls with styling product to finish.
Clipper Cutting 301 will be available online and as a print edition. For more information, to receive launch updates or to access Clipper Cutting 201 and Clipper Cutting 101, please visit www.master-barberschool.com.
[Images: Courtesy of Andis Company]