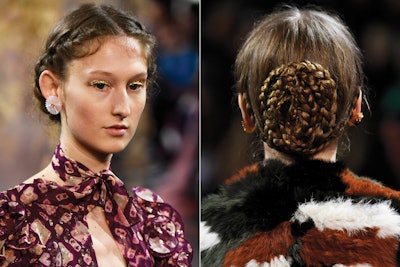 U​pon first, second and third glances, the intricately intertwined chignon at Ulla Johnson deceives onlookers in its complexity—but amika hair lead Esther Langham assures it's as simple as can be. "We're literally just pinning [the braids] around the back and intertwining them," she shares. "There's no particular way." For models with thicker hair, Langham says more labyrinthine details emerge; those with shorter hair exhibit fewer twists and turns. "Each girl has a different length and texture, so we're just working with what they have," she says.
To begin the style, Langham applies Plus Size Perfect Body Mousse through the hairline to the ends, and rough-dries using The Accomplice Dryer, intentionally keeping the texture fuzzy around the face for desired softness. She then creates three sections and employs an overhand style to braid along the front hairline on each side of the model's face. With those two sections braided to the very ends, Langham gets to work weaving three more plaits in the remaining section, spritzing Fluxus Touchable Hairspray to keep flyaways at bay. Here's where the maze-building begins: Folding and pinning the three braids into haphazard designs, she then secures the side braids around the perimeter of the basket weave, joining them into the chic tangle.
VIDEO: ​NYFW Runway Rundown - amika at Christopher John Rogers
The final touch: Langham fluffs the side braids with her fingers, conjuring a floating halo of wisps. "When you look at the models [from the front], it's very soft and easy—but as the girls turn around, you're going to start seeing detail through the hairline and the back," she explains. "We're keeping it soft and feminine, but there's a little toughness with the braids."
The Inspiration: Designer Ulla Johnson loves a good braid, plain and simple.
Hero Product: amika Plus Size Perfect Body Mousse adds control where needed.
Key Step: Create three braids in the third section of hair— then fold and pin to your heart's content.